Top B2B E-commerce Trends to Follow in 2019
Only a month left, before the New Year, so it's the best time to analyze previous results and plan new strategies for the following year.
The passing year was filled with important events for the eCommerce industry. On May 25th, General Data Protection Regulation (GDPR) rules impacted the whole digital world, and eCommerce was no exception. Now eCommerce business owners are responsible for the collection and safe storage of their customers' data.
Also, a lot of changes happened to the Magento platform. Firstly, Magento prolonged its support for the Magento 1 version until June of 2020, and secondly, the Magento company was acquired by Adobe.
So, what will be the next "Big Thing" in eCommerce, and how will it influence B2B businesses? In this post, we've put together the most interesting eCommerce trends for 2019 and beyond.
1. Cognitive Technology and eCommerce
Nowadays, retailers focus more on strategic plans than fast-moving strategies, and cognitive computing is one of the most attractive technologies for the next decade. According to IBM, 95% of retail executives have already planned to invest in cognitive technologies.
Depending on how cognitive technologies can improve eCommerce, we could outline three types of transformation:
Cognitive Automation. The automation used with cognitive computing can enhance all internal processes in business. Such technology replaces routine and time-consuming tasks, like invoice management and order processing. The main benefit of cognitive automation is achieving growth in sales and involving people in other important activities.
Cognitive insights. Machine learning (ML) and Natural Language Processing (NLP) can predict upcoming customer purchases and identify future demands. Cognitive insights help B2B sellers make better decisions based on predictive analytics.
A great example of the implementation of cognitive insights is Otto, the major German eCommerce company. Otto uses machine learning to reduce returns and predict promising products. The system predicts with 90 percent accuracy what will be sold within 30 days.
Cognitive engagement. It's the most popular way to use cognitive technologies in eCommerce. Chatbots are one of the types of cognitive engagement which use NLP. They provide 24X7 support, answer customers' queries, and create personalized recommendations. The chatbot market is expected to reach $1.23 billion globally in less than ten years.
2. Multichannel Integrations
The B2B seller's requirements are hard to meet with only one system, and picking the right tools and technologies is crucial for success. 57% of B2B executives stated that integrating their eCommerce platform with back-end technologies is their top need.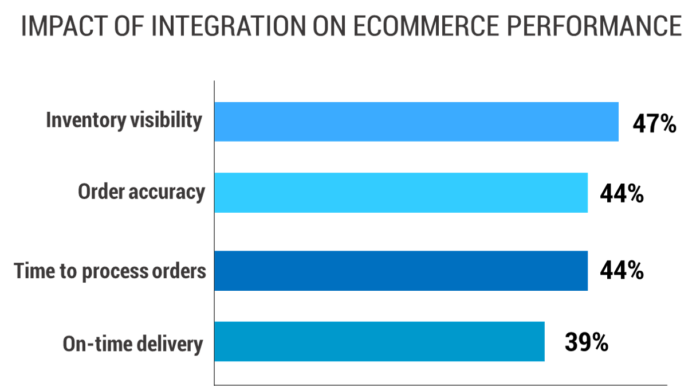 A well-designed eCommerce ecosystem will delight customers' needs and provide a better experience for employees. Every eCommerce ecosystem begins with choosing the right platform for an online store and a set of tools, like ERP, CRM, PIM, and many others.
Multichannel integrations positively impact internal and external processes in a company and significantly reduce the time of order processing. It increases inventory visibility, primarily if the company sells through various channels. Additionally, it speeds up order delivery due to the ability to automatically generate shipping labels with the name and address provided by the customer.
3. B2B Purchasing Portals / Marketplaces
Purchasing efficiency is a vital part of the B2B business process, 79 percent of companies with excellent supply chain capacities achieve revenue growth.
Purchasing portal is an emerging trend for B2B level eCommerce companies. It's a marketplace with products and services from approved suppliers. Purchasing portal centralizes procurement data, automates communication with suppliers, and gives a possibility to manage several offices in one place.
The essential components of an effective portal are:
B2C Mindset. An intuitive interface is one of the critical features of modern software because training can often cost substantial money and time. With purchasing portal, B2B buyers expect to have the same shopping experience at work as they have in their daily life buying something online.
Simple Integrations. A B2B portal should have seamless integration with a wide range of business tools, bridging company buying channels into one place and providing real-time data from accounting and ERP systems. A well-integrated purchasing portal can become a one-stop solution for all procurement needs of B2B owners.
Partner Relationships. For many companies, interaction with suppliers and vendors is not just getting a catalog; it is negotiating with a secure approval process. That's why it's important to record all such details in the portal and make it their main communication channel.
In conclusion
In 2019 companies will need to think not only about their customers but also focus on improving and automating their internal workflows. The main aim for 2019 is to simplify complex processes inside the company, accelerate order processing and products delivery and enhance communication with customers.
Do you want to implement the latest trends? Contact Us
You May Also Like
No feed found with the ID 1. Go to the All Feeds page and select an ID from an existing feed.
Read next
With the Black Friday and Cyber Monday Sales right around the corner, how can
If you're looking for an e-commerce platform that can handle large and small projects,
With the growth of mobile platforms, the use of social media, and the rise