7 ERP Solutions for Magento 2
ERP stands for Enterprise Resource Planning and, in many ways, is a lifesaver for omnichannel eCommerce. Don't be scared off by the word 'enterprise.' Regardless of the size of your business, implementing an EPR system might be a great decision that saves you time and money.   
We've already asked ERP or not to ERP. But before looking into ERP solutions to choose from, there are a few questions you should ask yourself first:  
 1. What is your company size?   
While ERP is beneficial both for large and small businesses, various solutions might be focused on specific business sizes, providing more complex or, on the contrary, simple features.   
2. What are your company's pain points?   
Defining your strong and weak sides might help you find a more personalized and suitable solution to solve your challenges.  
3. What version of Magento are you using? 
Magento provides three different solutions for merchants: Community, Cloud, and Enterprise. Depending on what version you're using, there might be other ERP options for your business.   
4. What types of products and attributes do you have?   
Depending on the product types (simple, bundled, grouped, or configurative), you should make sure the ERP platform you'd like to use allows you to integrate them all into the system to ensure no information gets lost.   
5. What are your order and shipping options?   
An ERP system should be able to process your orders and shipping data; therefore, we recommend checking the compatibility before making a choice.     
Once you have a clear picture of your needs, it's time to look into the various options to find a solution that suits your business perfectly. There are ERP integrations for practically all types of e-commerce platforms. Since the number of available ERP systems might be overwhelming, we came up with the list of best options for you to check out. 
Best ERP Systems for Magento 2
1.Odoo
Odoo is a complex solution that consists of various apps you can use for different purposes. It covers accounting and sales, email marketing, human resources, and others. While Odoo provides separate apps for each category, all of them can be easily synchronized, allowing you to fully automate your business processes and reap the savings and benefits. And it allows you to choose only those apps that are relevant for your online shop and its specific needs.  
Connecting your Magento store to Odoo is possible with Odoo Magento 2 connector, so you don't have to input any data manually (Important Notes: to integrate Magento with Odoo, you need to install Inventory (stock), Invoicing (account), and Sales (sale_management) Odoo apps). 
All the information, such as orders, prices, stock, customer data, and even shipment settings can be automatically integrated right into the system.  
2.Boost My Shop
BoostMyShop Embedded ERP was designed for Magento users, with every function built directly into the control panel. You can access all features right from your Magento 2 dashboard; no external software installation is necessary. 
Depending on the customer's needs, BoostMyShop provides three ERP packages:  
ERP + Dropshipping 

ERP + Barcode 

ERP + POS   
All packages provide customers with basic ERP features such as advanced inventory management, supplier management, order preparation, and more.   
3. SYSPRO ERP
SYSPRO ERP is an industry-specific solution built for manufacturers and distributors. It includes accounting, inventory management, order management, planning and scheduling, supply chain management, warehouse management, production management, customer relationship management (CRM), business intelligence, self-service portal, and manufacturing operations management applications.  
SYSPRO ERP provides three types of distribution; you can use it in the cloud, on-premise, or through a hybrid model.  
You can install SYSPRO ERP to your Magento 2 through the connector that several companies provide: 
4. Khaos Control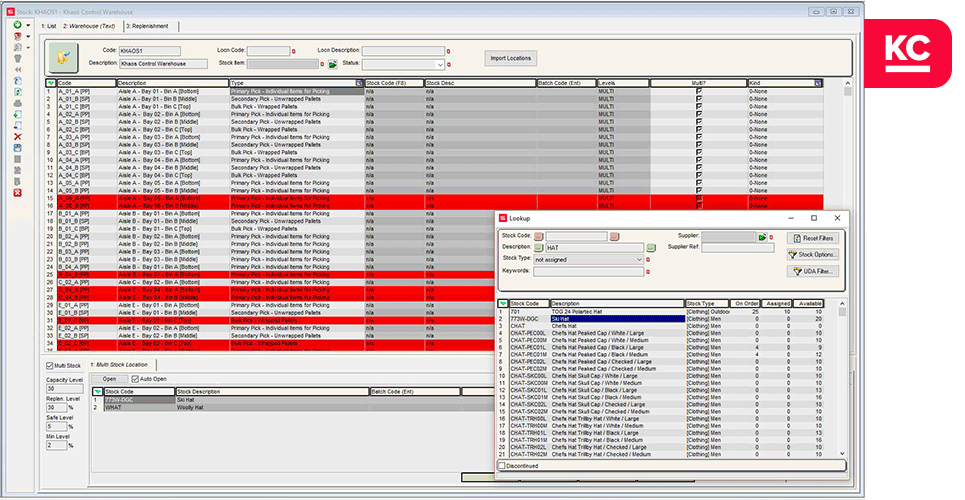 Khaos Control is another all-in-one ERP solution that combines three products: Khaos Control (KC), a Windows-based ERP application; Khaos Control Cloud (KCC), a browser-based ERP application; and Khaos Control Hybrid, which brings together KC, KCC & eCommerce.   
Together, these three products provide your eCommerce business financial tools, business management features, and real-time stock control. It can be easily connected to Magento, eBay, Amazon, and other popular eCommerce platforms.   
5. Infor
Infor is a complex cloud-based ERP solution that is hosted through Amazon Web Services™. It offers five packages that vary depending on business sizes and goals. Depending on the package you choose, you can implement such features as project lifecycle management, omnichannel inventory and warehouse management, project accounting, and value-added services.  
Infor provides a few deployment options, such as cloud, on-premises, and hybrid configuration, so you can choose the one that suits you most. Besides, it allows various types of automation to ensure the stability and efficiency of your workflow.  
6. True ERP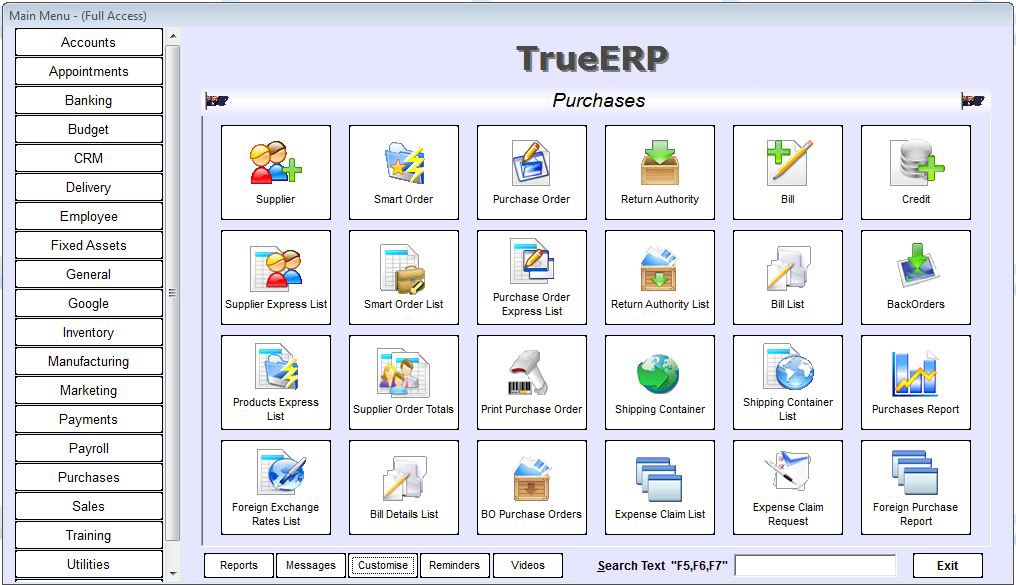 True ERP has been around for more than two decades now and has gained many loyal customers. And its success is not surprising since True ERP provides customers will numerous modules and features to cover all business needs, starting from accounting and ending with supply chain management.   
The platform's main advantages are the capacity for cross-reference information that makes it easy to work with and navigate through the data. 
True ERP covers the following key features for Magento 2 store: 
Control and managing transactions 

Inventory Management  

Supply Chain Management  

Warehouse Management   

POS functionality 

Manufacturing Scheduling  
7. NetSuite ERP  

NetSuite is a cloud-based ERP system with a modular structure. Besides providing an ERP solution itself, it offers multi-currency and multi-language support that might be vital for international companies.    
NetSuite also offers assistance from the Success Service team that helps to define your company's needs or adjust the modules.  
As NetSuite is one of the most popular ERP solutions for Magento Enterprise online stores, you can easily integrate it through the extensions on marketplace.magento.com
Have questions about ERP choice?
Our team is always ready to provide exceptional eCommerce integration services based on professional analysis of your business.
Contact us for a free consultation and our experts will be happy to provide you with a personalized solution for your company!   
You May Also Like
No feed found with the ID 1. Go to the All Feeds page and select an ID from an existing feed.
Read next
With the Black Friday and Cyber Monday Sales right around the corner, how can
If you're looking for an e-commerce platform that can handle large and small projects,
With the growth of mobile platforms, the use of social media, and the rise