10 Tools to Increase Online Sales for your Magento 2 Store
Magento is one of the leading online selling platforms that has made considerable strides in recent years. It includes a wide range of built-in features to create a complete e-commerce website. Moreover, you can expand Magento functionality and increase online sales through multiple extensions. Using the right Magento tools can meet all your business requirements.   
We've reviewed the best solutions to increase your e-commerce sales. All tools listed here are trustworthy and compatible with the Magento platform. 
The Best Solution to Increase Online Sales for Magento Website
Optimizing the current base, sales analysis, increasing the number of loyal customers, and increasing the payment process – these are all proven ways to expand sales.  Check out our recommendations to start earning more with your Magento store.  
Magento Power BI
Price: Free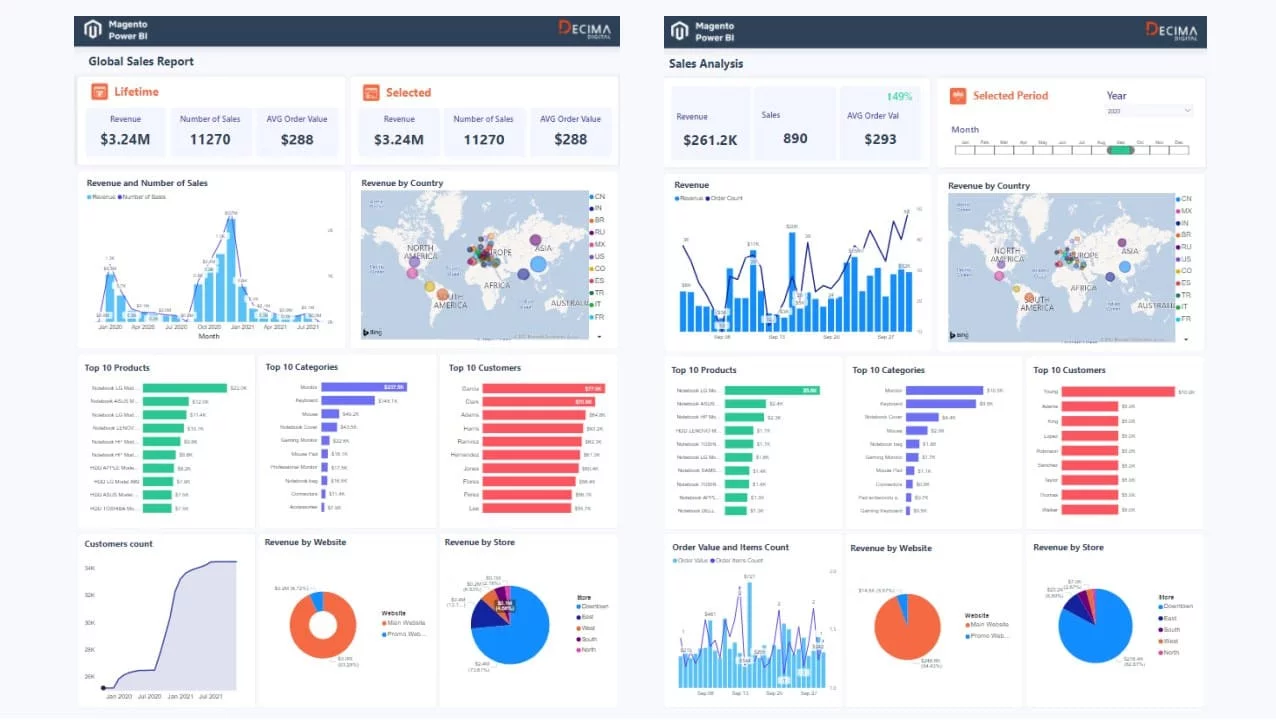 A comprehensive analysis of key metrics is the best way to find ways to increase online sales and generate customers in an increasingly competitive environment. Therefore, it is essential to organize all sales data into informative reports. The best solution here is the Magento Power BI app by Decima Digital.  
The Magento Power BI app collects the necessary information about the store and performs detailed sales analysis. It includes more than 60 pre-built reports, which you can check in 6 interactive dashboards:  
Global Sales Report – analyzes sales and lifetime revenue in different geographical locations. 

 

Sales Analysis – creates reports for the selected period and display total revenue from stores, the number of transactions, the average order value. 

 

Order Analysis – for tracking order status and comparing the main orders information. 

 

Customer Analysis – to evaluate customer growth and clients' performance.  

 

Coupon Analysis – help to optimize coupon strategy based on comparative reports. 

 

Comparative Analysis – includes reports based on revenue, orders, and customers data from the previous year. 

 
With Magento Power BI, you can better understand customer behavior, track sales trends, and adjust your sales strategy based on that data.    
This tool is indispensable for e-commerce store owners who want to add business intelligence features to their stores. It helps optimize business processes, increase online sales, and reduce cart abandonment.   
Channel Sales Manager for Magento
Price: contact vendor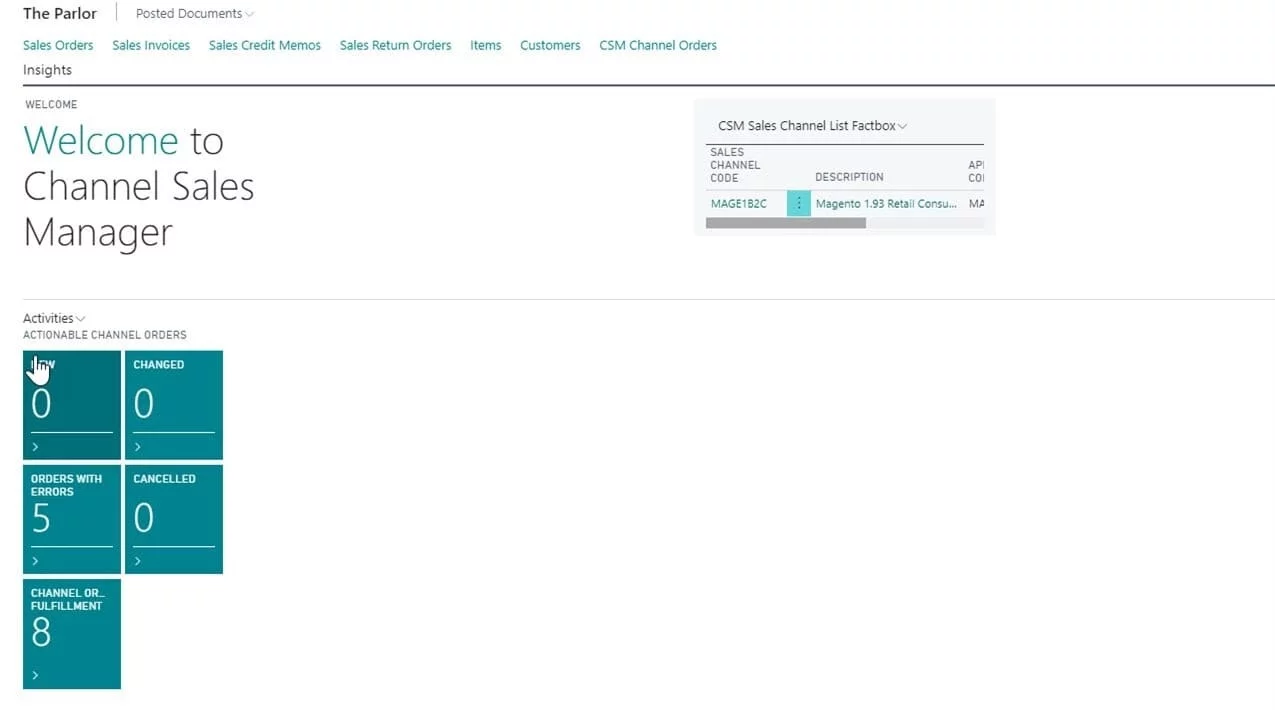 Optimizing order processing is an essential part of an effective sales strategy. Channel Sales Manager for Magento allows you to send information about sending orders and invoices to Magento in real-time. In addition, you can detect changes to orders that are being processed and automatically capture credit card payments.  
Channel Sales Manager allows you to manage multiple Magento stores (B2B, retail, specialty). Moreover, you can add additional product information (additional images, long HTML descriptions, and other attribute data), making it instantly ready for the buyer.  
Such flexibility will improve the user experience and increase online sales. 
Advanced Reports by Aheadworks
Price: $499.00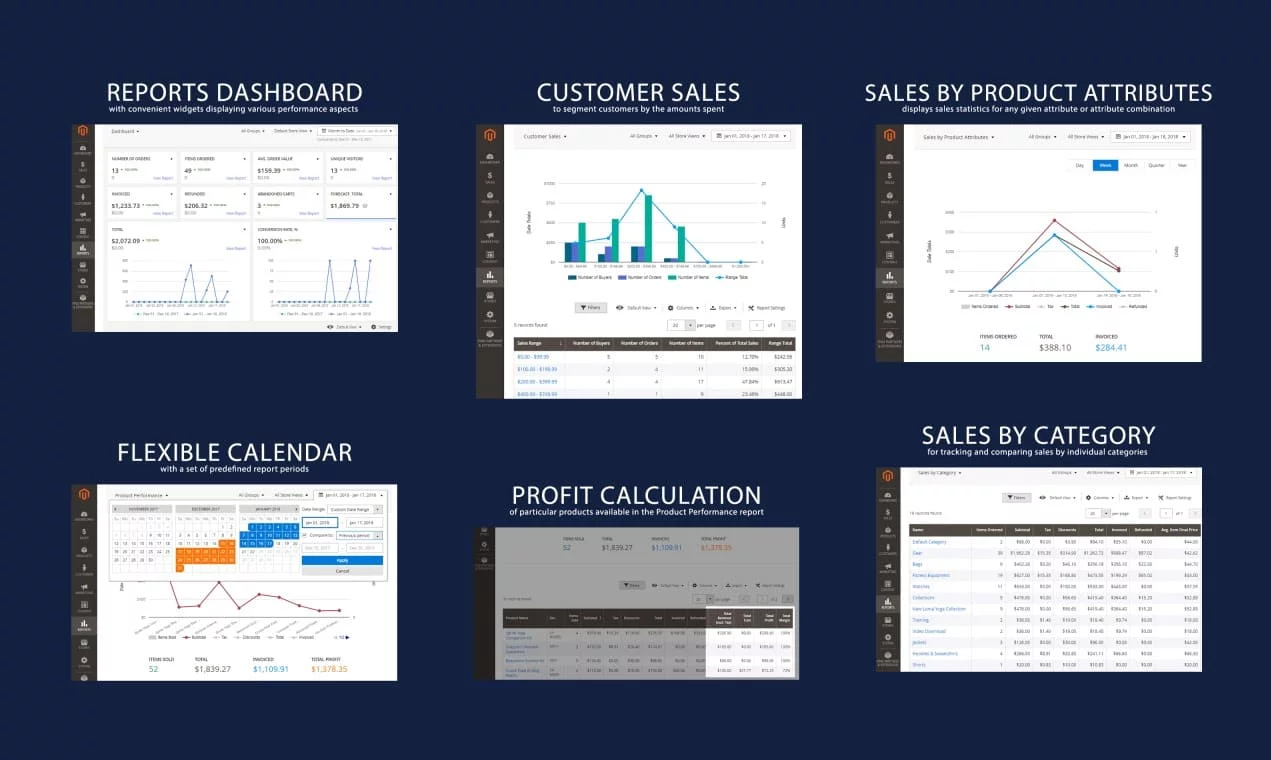 Advanced Reports by Aheadworks describes some basic store metrics and provides the data needed to optimize sales and increase conversion.   
Advanced Reports extension allows you to evaluate the performance of your online store from different perspectives. First, it provides a sales overview that includes critical metrics collected in a clear table. Second, the module makes a report on the performance of each product.     
Other data refers to categories, payment types, coupons, and manufacturers. There are also control options that allow you to configure how often reports are automatically updated.   
Sales & Orders 
Price: Free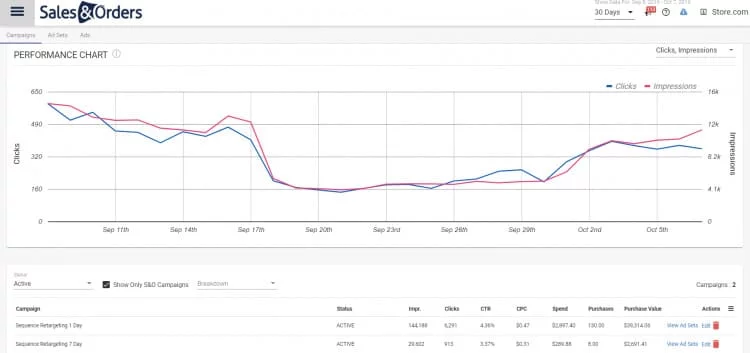 The Sales & Orders extension imports products from your Magento store into required marketing channels, increasing customer engagement.  
This extension allows you to launch a full-scale marketing campaign, and a report panel will help you evaluate its effectiveness.  
After installation, the extension will automatically optimize your product feeds and build them for digital channels: Google, Bing, Facebook, and Instagram. Access to the Feed Tool is free for up to 10,000 products.  
The extension offers a wide range of options for managing and optimizing advertising campaigns in each channel, including  
Google Campaign Manager;

 

Bing Campaign Manager;

 

Facebook / Instagram Campaign Manager.

 
In addition, you can access exclusive S&O products and programs such as Repricing, Affiliate Marketing, and Google CSS (Comparison Shopping Service) for the UK. 
Ultimate Sales Boost by Mageworx
Price: $199.00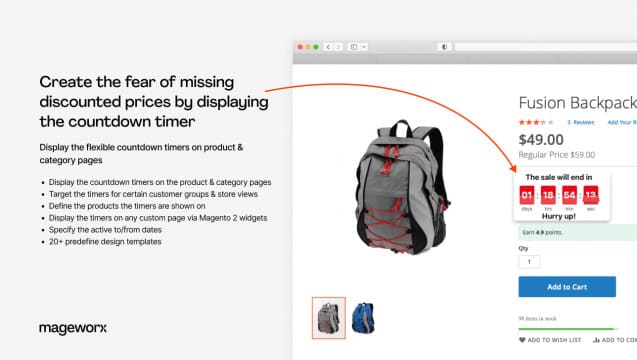 Ultimate Sales Boost for Magento is designed to improve sales strategy by using the FOMO (The Fear of Missing Out) marketing strategy. It appeals to consumers' desire to latch on to every opportunity before it slips through their fingers. Many people would instead make an impulse purchase than regret failing to act later.  
In essence, the module offers a set of tools displayed on the interface of the Magento pages of the site according to the specified rules, conditions, and time frame. Such tools include:  
Countdown timers;

 

Pop-up and text HTML notifications of recent sales;

 

Product popularity reports;

 

Stock status indicator.

 
In addition, Mageworx Ultimate Sales Boost for Magento has built-in design templates that can be customized according to your business needs. 
Cross-Sell / Upsell Products for Magento 2
Price: $169 – $428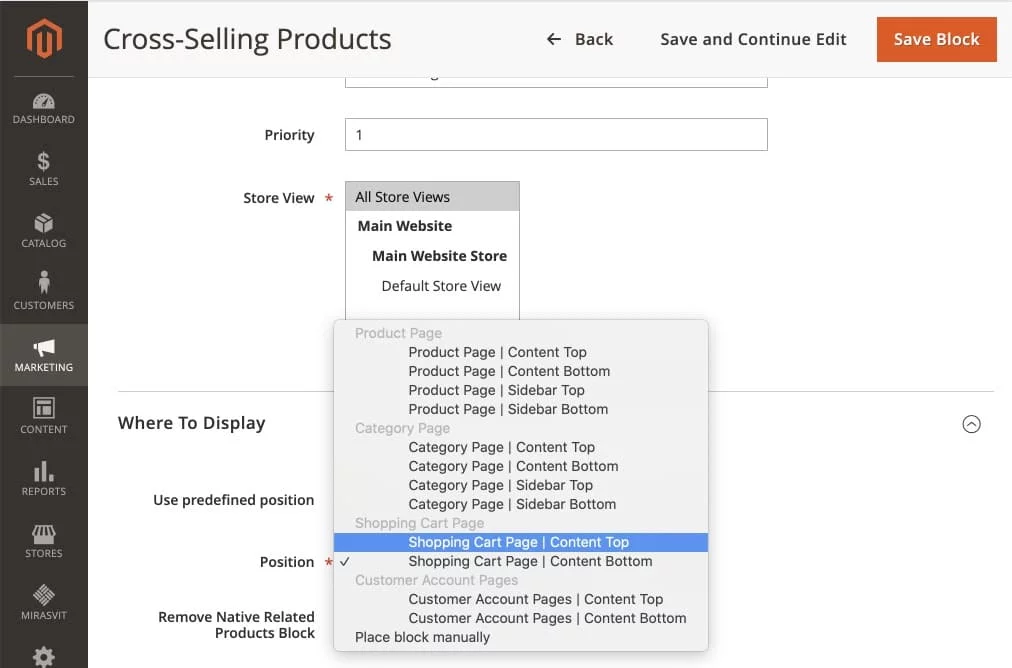 Cross-selling and upselling can significantly grow conversions, transactions, and leads.  
Magento 2 already has a built-in cross-selling feature but requires some manual works to link them. This process is time-consuming, especially if you have a lot of products in your store.  
Automatic Related Products by Mirasvit extension automates the task. It helps to make more profit and advance the average check, with flexible rules for selecting recommended products.  
Products are offered automatically according to an algorithm with many factors. You can personalize the offers as much as possible by setting rules for the entire catalog or individual product groups.  
Also, Magento 2 Related Products extension tracks the required analytics data, including impressions (views), clicks, orders, and total revenue. 
Fire Checkout by Templates Master
Price: $189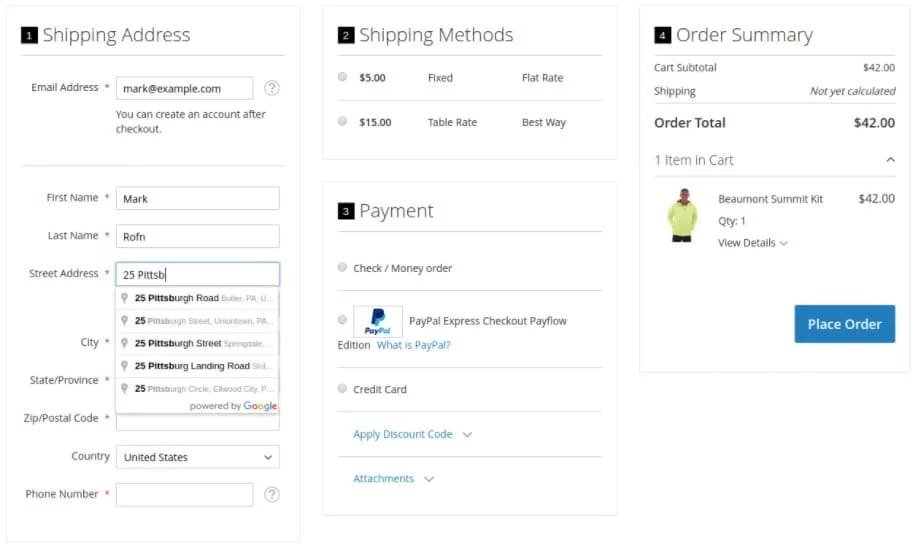 A successful and completed transaction directly depends on a convenient Checkout page. A simplified ordering process will help reduce bounces and enrich sales.  
The FireCheckout module helps personalize the Checkout page, add or delete fields, and avoid any steps that can confuse users. 
Customers can quickly complete the address filling procedure with the auto-complete address feature. FireCheckout extension gives you five different checkout layouts to use on your e-commerce site. 
 The FireCheckout offers a more direct and faster checkout form to complete the purchase process and include:  
5 layouts of the ordering page;

 

4 covers of the ordering page;

 

Address autocomplete feature;

 

Complete control over the fields for ordering;

 

Creating new customer fields;

 

Delivery date and time function;

 

Attachment ordering function.

 
Magento 2 Special Promotions
Price: $129 – $229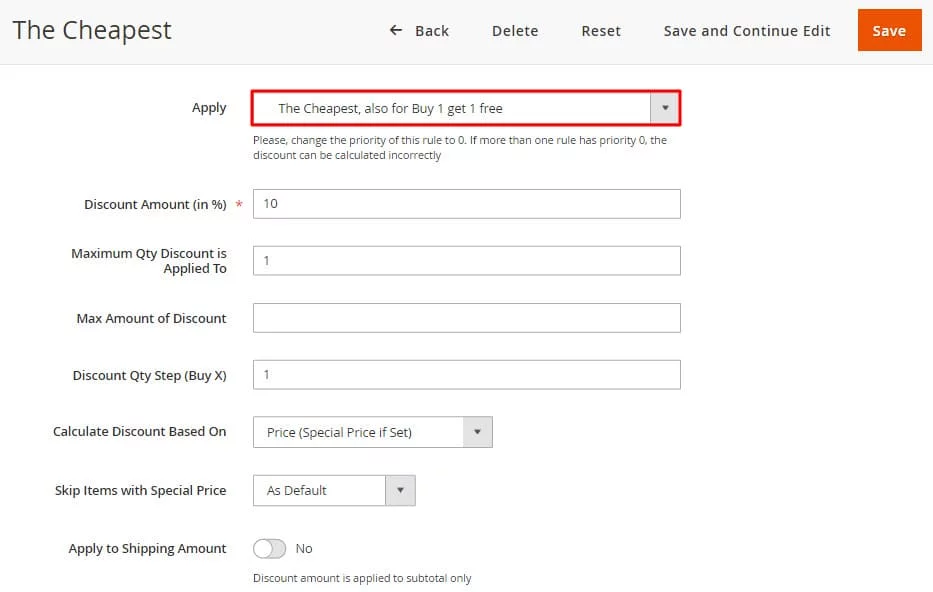 Sales strategy depends on many factors, from discounts, promotions, and other marketing moves. To make a Magento online store attractive to visitors, it's worth applying special offers for customers.  
Special Promotion for Magento 2 extension lets store owners create 15 promotion rules for inexpensive and costly products. And it allows customers to buy products as a percentage or fixed discount.  
The extension helps you create multiple campaigns and run them simultaneously. With Smart Filter options, you can be sure that discounts apply only to selected products, and unique products are not considered. The extension has customizable widgets to add promo banners anywhere in your store.  
The main advantage of the extension is a special offer that allows valuable customers to buy products in bulk online. 
Yotpo Loyalty & Referrals by Yotpo
Price: Free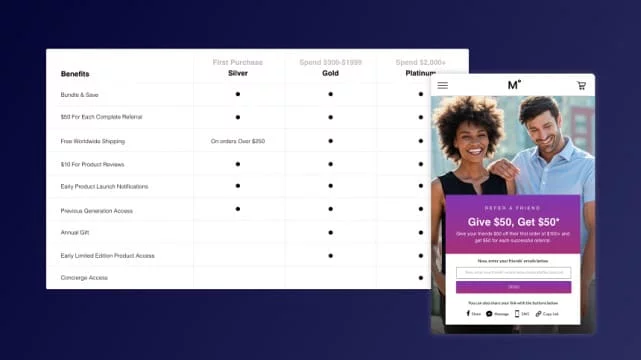 One more effective way to boost sales by 20% is through loyalty programs that motivate customers to return. Loyal customers are overwhelmingly more profitable than other customers because repeat customers spend more on each transaction.   
Yotpo Loyalty & Referrals for Magento allows brands to create personalized, customer-focused loyalty and referral programs that increase customer satisfaction and brand loyalty.   
Here are some useful options of the Yotpo extension that can help your e-commerce to attract more valuable customers:  
19 referral marketing campaigns with the intuitive interface; 

 

Ability to create exclusive VIP levels; 

 

Comprehensive analytics program to understand how you can optimize customer interaction; 

 

Ability to customize the look according to the design of your brand. 

 
A wide range of point-earning campaigns, tiered VIP perks, customizable rewards options, and more – all these will help directly enhance the number and frequency of transactions. 
Abandoned Cart Coupons
Price: Free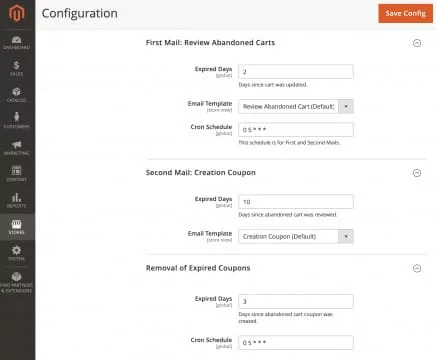 The abandoned carts rate can reach 80%, as buyers face difficulties or problems when ordering. About 66% of buyers leave their baskets and, unfortunately, do not return to complete the order. And reducing pending transactions can boost e-commerce sales.  
Abandoned Cart Coupons extension reduces shopping cart abandonment by sending personalized discount coupons to customers who have left the online store without purchasing.  
The Abandoned Cart Coupons extension lets you customize cart policies to suit your business needs. You can control when sending an email and the amount of the discount coupon depending on the size of the abandoned basket. In addition, the extension provides automatic removal of unused coupons after a certain period. 
Conclusion
There are many helpful tools in the market for turning your Magento store into a giant money-making enterprise. Using the right e-commerce solutions for your online business can increase your productivity and manage your operations with ease. We highly advise you to start using the Magento tools from our list today and increase productivity, customer engagement and get more conversions for your business. 
You May Also Like
No feed found with the ID 1. Go to the All Feeds page and select an ID from an existing feed.
Read next
Do you know a really good procurement system? Are you sure it is good enough
Every time starting a new integration project, we usually think about different ways to implement
ADA (short for the Americans with Disabilities Act) is a civil rights law that forbids