The Best PIM Solutions for your Magento 2 Store
Ecommerce business deals with a lot of data and content. As your business grows, your inventory is growing too, and it becomes hard to manage and update all product information, infostructure, and content at every sales channel and online store.
And according to the latest stats, 87% of online shoppers place a high value on product descriptions as essential factors for deciding on a purchase. So we the outdated information on your website you will lose sales.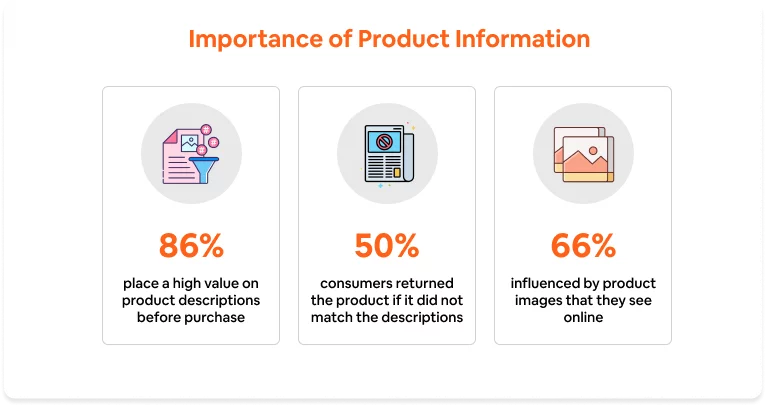 No doubt, product data management can become a headache if you don't use automation systems. Thanks to the right solution, like the Product Information Management (PIM) system, you can speed up and simplify this process.
A quick checklist of when do you need PIM:
You have several SKUs with a dynamic product range 

Your product catalog is complex and updated frequently

A great deal of data is generated from various sources 

There are multiple sales and marketing channels

Keeping fast time-to-market is critical 

You provide customers with a lot of product information, especially for online shopping

All the related departments need consistent and up-to-date product data 
If you have more than two checkmarks, it's time to implement PIM. And you're not alone in your journey. More than 184 thousand retailers use Magento 2 as a foundation for their online stores. The benefits of PIM are obvious; thanks to Magento PIM integration, merchants can increase sales conversion rates up to 4X. And it's important to make the right choice of PIM solution that can have stress-free integration with the Magento store. 
To make your life easier, we create a list of the best PIM solutions that can be an excellent fit for Magento.
Akeneo
Price: Community Edition – free 
Magento Integration: Akeneo Connector
Akeneo PIM becomes a unicorn in the PIM world. It's one of the most popular solutions for online stores and a technology partner of Magento and means that Akeneo easily connects to Magento. 
If you are looking for the best open source and free PIM solution, Akeneo PIM can be your choice. You can easily handle all needed product content and data through many channels. Akeneo makes it possible to configure products attributes, variations, categories, and attribute groups. Moreover, you can manage content in multiple languages and currencies and choose what to update and where.
Akeneo has three editions: Community Edition, Growth Edition, and Enterprise edition. Community Edition is free with on-premises deployment; the other two Editions are Saas solutions, and pricing depends on business size.
All available integrations: Magento 2, InBetween, WooCommerce, Google Shopping, eBay, Drupal, Shopware, Microsoft Dynamics, Adobe InDesign, AliExpress, Salesforce Commerce Cloud, WordPress, BigCommerce, OpenCart, PrestaShop, Shopify, Odoo, WooCommerce, Google Shopping, and more.
Pimcore
Price: Community edition – free
Magento integration: Pimcore Magento Connector
Pimcore Platform is an open-source and perfect fit for enterprise-level retailers. It consists of six digital products: Product Information Management, Master Data Management, Digital Asset Management, Commerce Framework, Experience Platform, and Customer Data Platform.
It has valuable features: data modeling, data management, and workflow management. Pimcore PIM is an ideal tool for managing complex product information.
For Magento users, PIM provides Pimcore Magento Connector that integrates product, category, and asset.
Pimcore is available for free as an open-source Community edition, and for enterprise, it has a subscription-based plan.
All available integrations: (Can be made with the Pimcore API ) Pixlr, Magento 2, Saferpay, Shopify, Shopware, Amazon, Google Shopping, eBay, Facebook
InRiver
Price: Contact Vendor / Cloud
Magento Integration: Adobe Magento Commerce Adapter or third-party apps
InRiver PIM can be used by B2B and B2C retailers who mix online distribution channels.
With InRiver, you can manage and distribute product and marketing content to the online stores, POS systems, catalogs, and many other sales channels. It's also has a Supplier Portal to simplify the supplier's management and the onboarding of their product information.
InRiver includes Planner App, so you can schedule and track activities, monitor the work process, and collaborate with your team directly in PIM.
How to connect to your Magento store? InRiver PIM has launched a Magento Commerce adapter, and there are many third-party apps build by digital agencies, like MageCloud or ScommerceMage 
All available integrations: Amazon, Walmart, Google Shopping, Apptus, Magento 2, Shopify Plus, CloudCraze, DataFeedWatch, Intershop, Salesforce Commerce Cloud, Sana, ShopLogiQ, Sitecore, Insite, Adobe, and EPiServer. Check the complete list.
Salsify
Price: Contact Vendor / Cloud
Magento integration: Third-party connector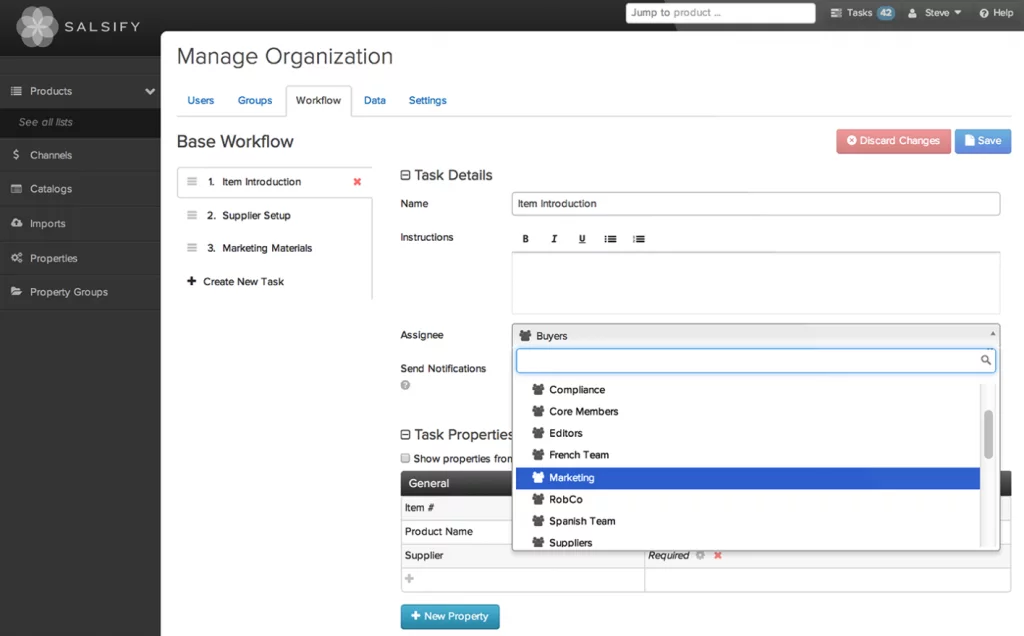 Another cloud-based solution for managing product information is Salsify. It combines PIM, DAM, inventory and order management, digital catalogs, and many other systems.
As a PIM, Salsify collects and stores marketing content, product description, and logistics data. Salsify has a real-time collaboration app so you can track updates or changes of product content. Salsify PIM is a comprehensive tool for big teams, with a lot of data changes.
Salsify quickly integrates with all major e-commerce platforms. With Magento, we propose to use a third-party connector by Trellis.
All available integrations: Amazon, Walmart, Magento 2, Home Depot, Jet, Google Merchant Center, Drupal, Shopify Plus, Box, Epicor, Dropbox, MS Dynamics, NetSuite, SAP, Oracle, Sitecore, Facebook, Instagram. 
Bluestone PIM
Price: $1,000.00 per month / Cloud
Magento integration: M2 Extension

Bluestone PIM is a MACH certified cloud PIM software designed for retailers who have extensive product catalogs. You can manage digital assets, images, and content, as well as build a structure for your categories and subcategories. Bluestone PIM creates a central product data repository, which can be exported and imported in different formats, including CSV.
Bluestone PIM provides Magento 2 extension to automate the synchronization of product content from your Magento to PIM.
The pricing model for PIM depends on the number of features you will use, but the starting price is around $1000.00 per month.
All available integrations: Magento 2, Amazon, Adobe InDesign, Slack, Digital River, Lipscore, Quicklizard, Tradesolution EDP, and other apps.
Jasper PIM
Price: $99 – $1.750 per month / Cloud
Magento integration: M2 Extension
 
Saas platform Jasper PIM can be implanted by both small and enterprise merchants. It helps you to localize, categorize, and store all your product data in a single place. Jasper PIM has a power feature custom attributes. It automates the process of linking category types with customizable products by organizing them into sets.
You can push data from Jasper PIM for Magento stores in different languages and currencies, catalogs, ERP, inventory control systems, Amazon marketplace, and trading partners.
The integration with Magento goes through the extension. Jasper PIM price depends on storefronts number, support model, and features. 
All available integrations: Amazon, Magento 2, BigCommerce, Shopify, Dotdigital, Skubana, BrendiQ, Serchspring, Jetrails, Venzee, Seligo, Shopgate.
Wrap Up
By now, you should have understood how important and relevant PIM can be for your Magento 2 store. The best part about choosing a PIM is that it keeps track of everything that happens in your store. This helps you optimize time and be more organized in managing inventory, sales performance, and customer communication.
To know more about how you can integrate a reliable PIM system with your Magento 2 store, drop in at our free demo call now! Our Magento 2 experts will be happy to guide you through the steps of setting up and configuring a chosen PIM.
You May Also Like
No feed found with the ID 1. Go to the All Feeds page and select an ID from an existing feed.
Read next
With the Black Friday and Cyber Monday Sales right around the corner, how can
If you're looking for an e-commerce platform that can handle large and small projects,
With the growth of mobile platforms, the use of social media, and the rise