10 Strategies to Set Up Your Magento Store for Black Friday
With the Black Friday and Cyber Monday Sales right around the corner, how can you know that Magento is ready for the traffic surge that will be coming your way?
It's time to get your Magento website ready for the madness.
Get your Magento store ready before Black Friday
1.Plan ahead
One of the most important things you can do to prepare for Black Friday is to plan. This means taking a close look at your sales data from previous years and using it to forecast how much inventory you'll need on hand.
Holiday Sales planning should think not only of the expected volume of sales but also factors such as the average order size and the mix of products that will be popular. By planning ahead, you can avoid the last-minute scramble to source additional inventory and ensure that you have the products your customers want in stock.
2.Choose the right time to start
The best way to get your products and services noticed during the Black Friday rush is to start marketing early. Get your ads and promotions up as soon as possible so that shoppers are aware of what you have to offer. If you wait until the last minute, you'll likely get lost in the shuffle.
Black Friday Stats 2021
The Week Before Black Friday
Online sales increased on Thursday
Desktop traffic got on top in the morning, while mobile traffic got the peak in the Black Friday evening
The peak of the traffic was at 12.00 pm
More than 70% of purchases were made from mobile
The highest rate of add-to-cart was at 9 pm
Cyber Monday
The total Cart Abandonment rate was 77.23%
More than 70% of online sales come from mobile
The peak of the traffic was at 9.00 pm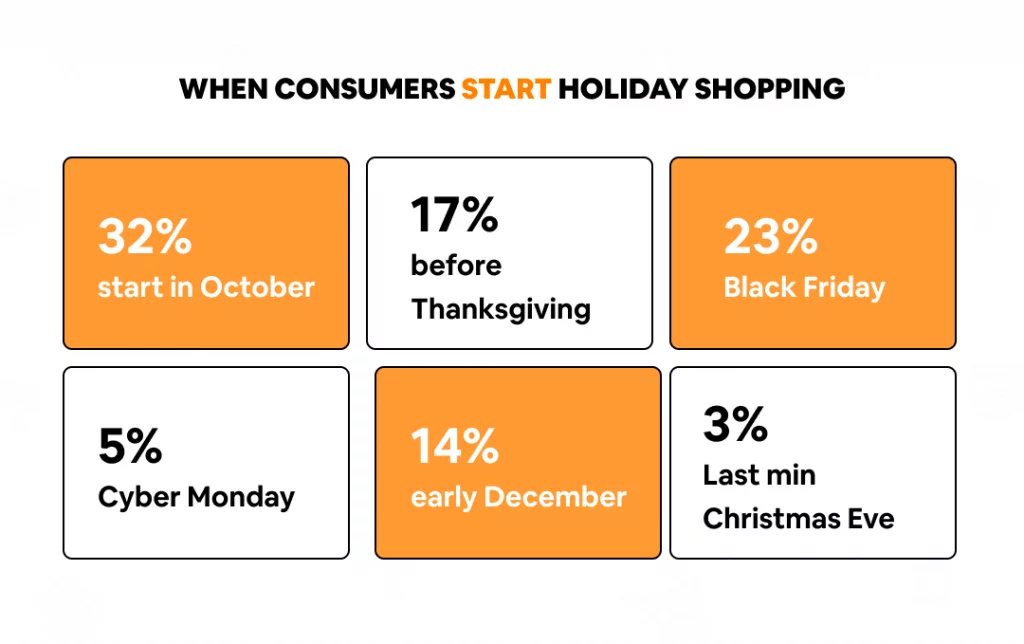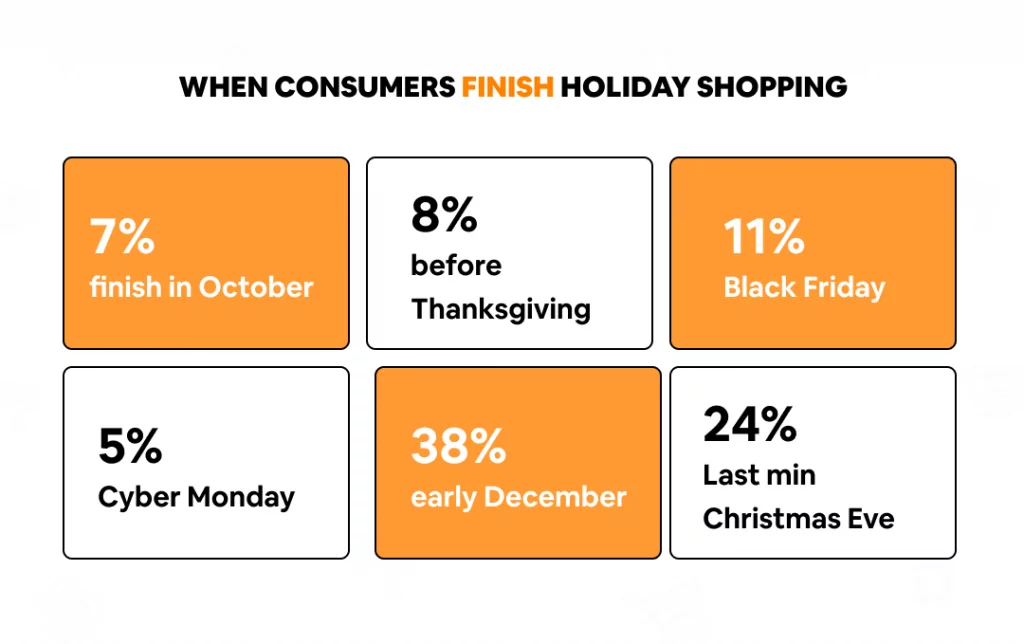 3.Marketing campaigns
The first step to preparing your store for Black Friday is to plan your promotions. Decide what discounts you want to offer and when you want to offer them. Then, create a promotional plan to help you execute discounts and drive traffic to your store.
Create urgency
When customers see a deal, they're more likely to act on it if they feel they need to act fast. You can create a sense of urgency by running countdown timers or offering limited-time discounts. Such a promotional strategy will encourage people to buy before the deal expires.
Use social media to promote your deals
You've probably heard the saying "content is king." It's true for social media. Social media is a great way to reach a larger audience and promote your Black Friday deals. We recommend using effective visuals and call-to-actions to get the most out of your social media posts.
Create a dedicated landing page for your Black Friday deals
Your landing page should be designed to highlight your best deals and make it easy for shoppers to find what they're looking for. Don't forget to include clear call-to-actions and images to make your landing page as effective as possible.
Run a targeted ad and email campaigns
If you have a customer database, you can use it to your advantage on Black Friday. Send targeted emails with personalized deals to people who are likely to buy from you. You can also use data to create targeted ads on social media.
Leverage influencer marketing
Influencer marketing can be highly effective during the holidays. Work with influencers who have a large following in your target market and who will be able to promote your products and deals to their audience.
4.Optimize SEO on your website
Holidays are the peak of shopping, so your website will likely increase traffic; that's why you should optimize it for performance. Website optimization includes things like reducing image sizes, enabling caching, and more. In our previous article, we wrote detailed instructions on how to get the best SEO results on your Magento store.
There are a lot of SEO extensions that are available on the market to improve the performance of your store. Best choices of clients:
5.Handle stock issues
Nothing would be worse on Black Friday than running out of inventory. Check your stock levels in the weeks leading up to Black Friday, and place orders for additional inventory if necessary. So you can easily meet customer demand during the busiest shopping period of the year.
We recommend having at least a two-week supply of inventory, which will help you avoid running out of your most popular products. Once you've determined how much inventory you need to have on hand, it's essential to manage it effectively.
An inventory management system will help you keep track of what products you have in stock, how many you need to reorder, and when you need to reorder them. This will take the guesswork out of managing your inventory and help you avoid stockouts on popular items.
6.Smooth checkout process
The last thing you want on Black Friday is for your customers to get frustrated with your checkout process. Your payment process must be fast and efficient, so you can handle the increased volume of orders.
You might also consider offering multiple payment options to make it easy for customers to pay.
There are a few things you can do to prepare your payment gateway for Black Friday:
Evaluate technical performance
Can your current system handle the volume of transactions you're expecting? If not, you may need to look into a different provider or a more robust solution.
Control security options
Don't forget about security. With all the extra traffic and transactions, your site is more susceptible to attack. Be sure to take the necessary precautions to protect your site and your customer's data.
7.Reevaluate your shipping and returns plan
Shipping strategies are vital for any retailer but especially for Black Friday and Cyber Monday. If your products are not able to reach customers in time, it may affect your sales and your brand's reputation.
Free Shipping
Offering free shipping is a great way to encourage customers to shop with you on Black Friday and Cyber Monday. Customers are always looking for a good deal, and free shipping is a great way to entice them. Plus, free shipping can help you stand out from the competition.
Guaranteed Delivery
Another shipping strategy you can offer for Black Friday and Cyber Monday: guaranteed delivery. This means you guarantee that your customers' orders will arrive by a specific date, usually within a few days. Guaranteed delivery is an excellent option for customers who want their gifts to arrive on time.
Expedited Shipping
If you want to go above and beyond for your customers, you can offer expedited shipping for Black Friday and Cyber Monday. Your customers' orders will be shipped faster than usual, usually within one or two days.
Free Returns
Finally, another shipping strategy you can offer for Black Friday and Cyber Monday is free returns. This is a great way to encourage customers to shop with you, as they know that they can always return an item if they're not happy with it. Free returns can also help you build trust with your customers.
8.Focus on Infrastructure improvements and scalability
You've prepared your store for sales and you're going to make a profit. Now it's time to prepare the technical side of things.
Before anything else, you need to inspect your Magento store version. Constantly updating Magento to the latest version is necessary for two reasons. First, it will help your store run smoothly and efficiently. Second, it will help you avoid any potential security risks.
On Black Friday, your store will see a significant traffic increase, but it can also strain your server if you're unprepared. So we recommend auditing the performance of your Magento site to keep up with the traffic and the load.
We have created a guide on how you can run a Magento health check by yourself to keep your store always performing optimally.
9.Prepare your customer service and technical team
Your customer service team will be working overtime during Black Friday, so it's crucial to prepare them in advance. You need to provide them with a catalog of your promotions, discount structure, and any additional training they might need.
Here are a few things you can do to make sure your customer service and technical teams are ready for the rush:
Get organized
Now is the time to start prepping for Black Friday. Go through your inventory and decide what's going to be on sale. The customer service team needs to be aware of the items on sale and the discounts that will be offered.
Train your team
Ensure your customer service and technical teams are up to speed on your products and services. They should be able to answer customer questions and solve problems quickly.
Have a plan
Things are going to get hectic on Black Friday. That's why you need a backup plan, so your team knows what to do when things get crazy.
Stay calm and work with the right Magento partner
The key to surviving Black Friday is to stay calm and have a professional technical partner who has in-depth knowledge of Magento Commerce.
10.Black Friday doesn't end on Friday
Black Friday is not only the busiest shopping day of the year, but Black Friday has also become a barometer for how you will go throughout the holiday season.
In order to understand how to analyze the results of Black Friday sales, you need to understand what factors make up a successful Black Friday. Some of the key components include the following:
The number of shoppers
The average amount spent per shopper
The types of items purchased
The overall sales volume
The number of shoppers is a good indicator of how well your Magento store is doing in terms of attracting customers. However, it is not the only factor to consider. The average amount spent per shopper is also important. This number can be affected by a few factors, including the types of items being purchased and the overall sales volume.
Another key factor to consider is the types of items purchased. Black Friday is traditionally a day for shopping for holiday gifts. As such, the types of items purchased can give you a good indication of what people are looking for during the holiday season.
Finally, the overall sales volume is a good indicator of the health of the economy. Higher sales volume usually indicates a healthy economy, while lower sales volume can be an indication of a struggling economy.
To track sales trends and adjust sales strategy you can connect your Magento online store with a Microsoft Power BI application.
Magento Power BI app contains powerful reports and a dashboard to give you a solid view of your financial and operational results based on data available on your Magento website.
By following these tips, you can ensure that your Magento store is prepared for Black Friday. By planning your promotions, optimizing your website, and stocking up on inventory, you can make the most of this peak shopping period.
You May Also Like
No feed found with the ID 1. Go to the All Feeds page and select an ID from an existing feed.
Read next
Do you know a really good procurement system? Are you sure it is good enough
Every time starting a new integration project, we usually think about different ways to implement
ADA (short for the Americans with Disabilities Act) is a civil rights law that forbids