Magento

Power BI
Get visual analytics of your e-commerce
Magento store with a click
Our goal is to share with you a convenient tool to analyze the business metrics of your Magento-based online store. This app contains a set of reports to give you a solid view of your financial and operational results based on data available in your Magento instance, and will help you make your decisions wiser and navigate your business better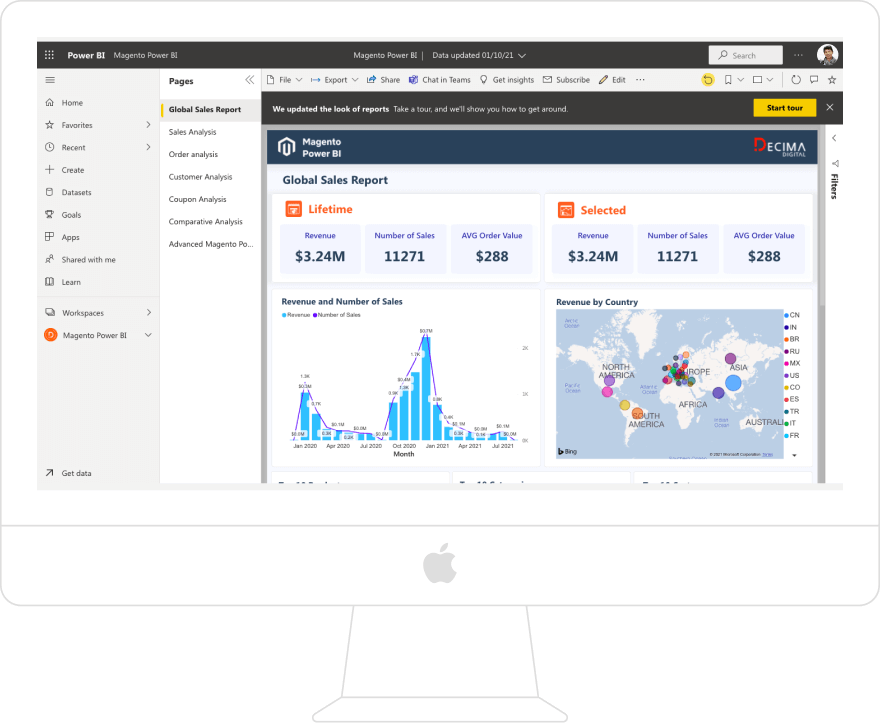 Magento Power BI app
Magento Power BI will help you, and your team clearly understand performance, sales trends, opportunities and make quick, data-driven decisions. It helps keep the focus on high-value leads and actionable insights without getting lost in the numbers.
You can connect with your credentials to Magento or create an API user in your Magento for this integration with access to the data required for analysis
The app contains:
6 Interactive, Operational, and Strategical Dashboards
60+ Prebuilt Reports
Detailed and Deep Analytics
Comparative Analysis
Interact with the dashboards and reports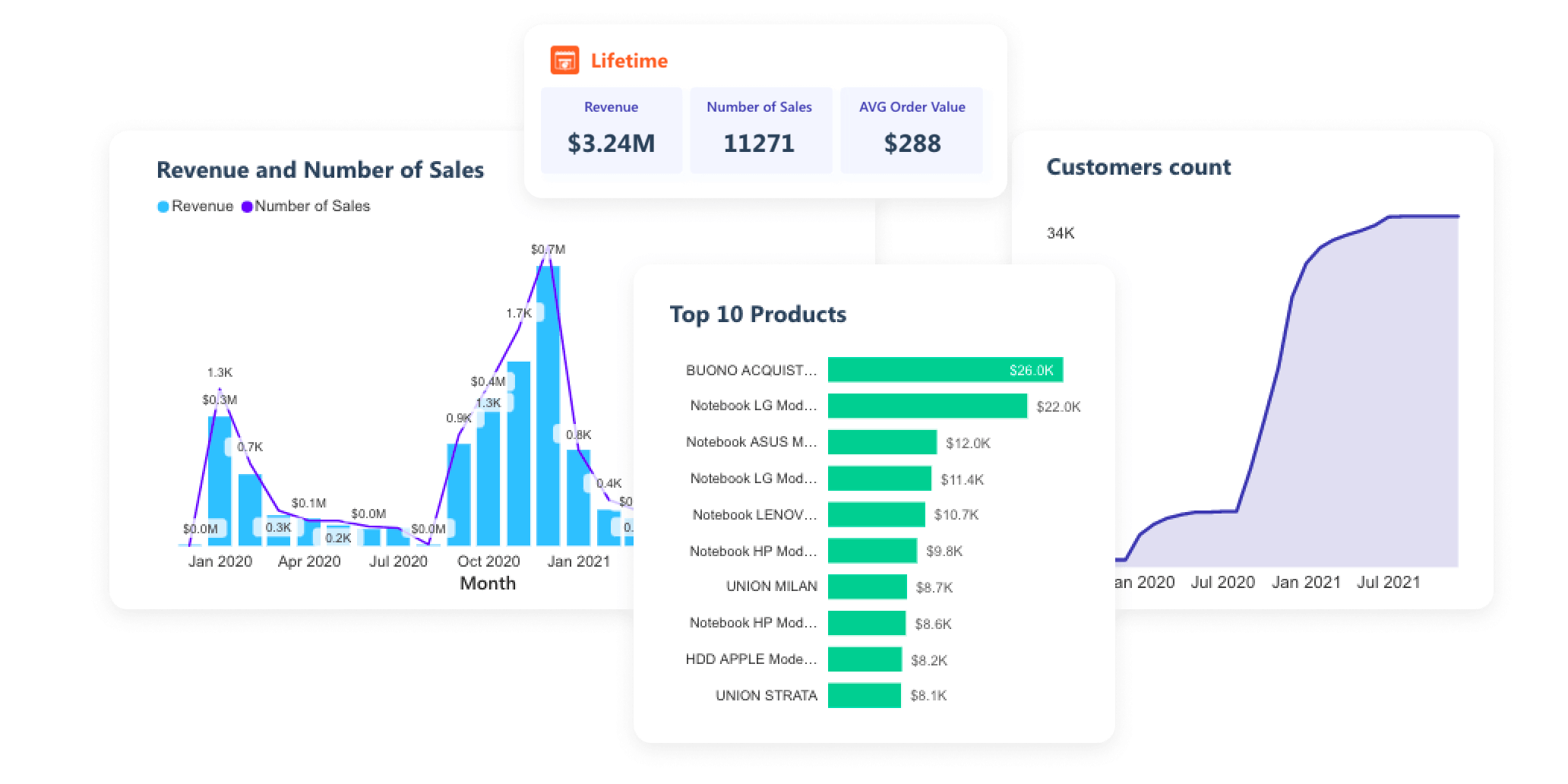 Global Sales Report
Know the overall performance of your business. You can see the Lifetime Revenue and Sales in key geographical areas, Customer Count, Top Products, Categories and Clients, Revenue by Websites, and Stores. With all reports, you will be able to drill down for a more detailed analysis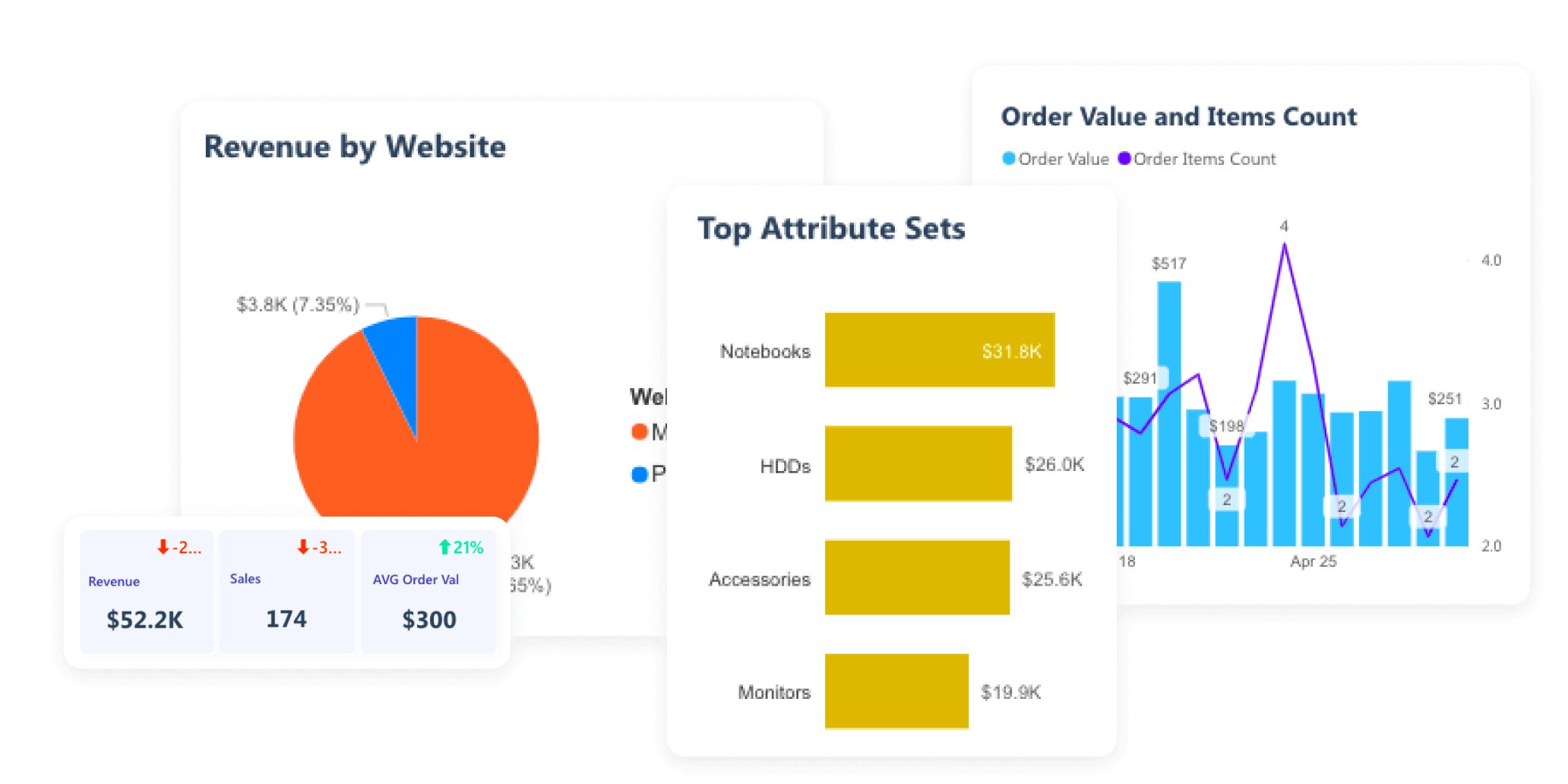 Sales Analysis
Sales Analysis will provide you with detailed statistics of sales for the selected period and includes the Total Revenue from Websites, Stores, the Number of Sales, the Average Order Value. You will be able to see the Top 10 Products, the Top 10 Categories, and the Top 10 Customers for the selected period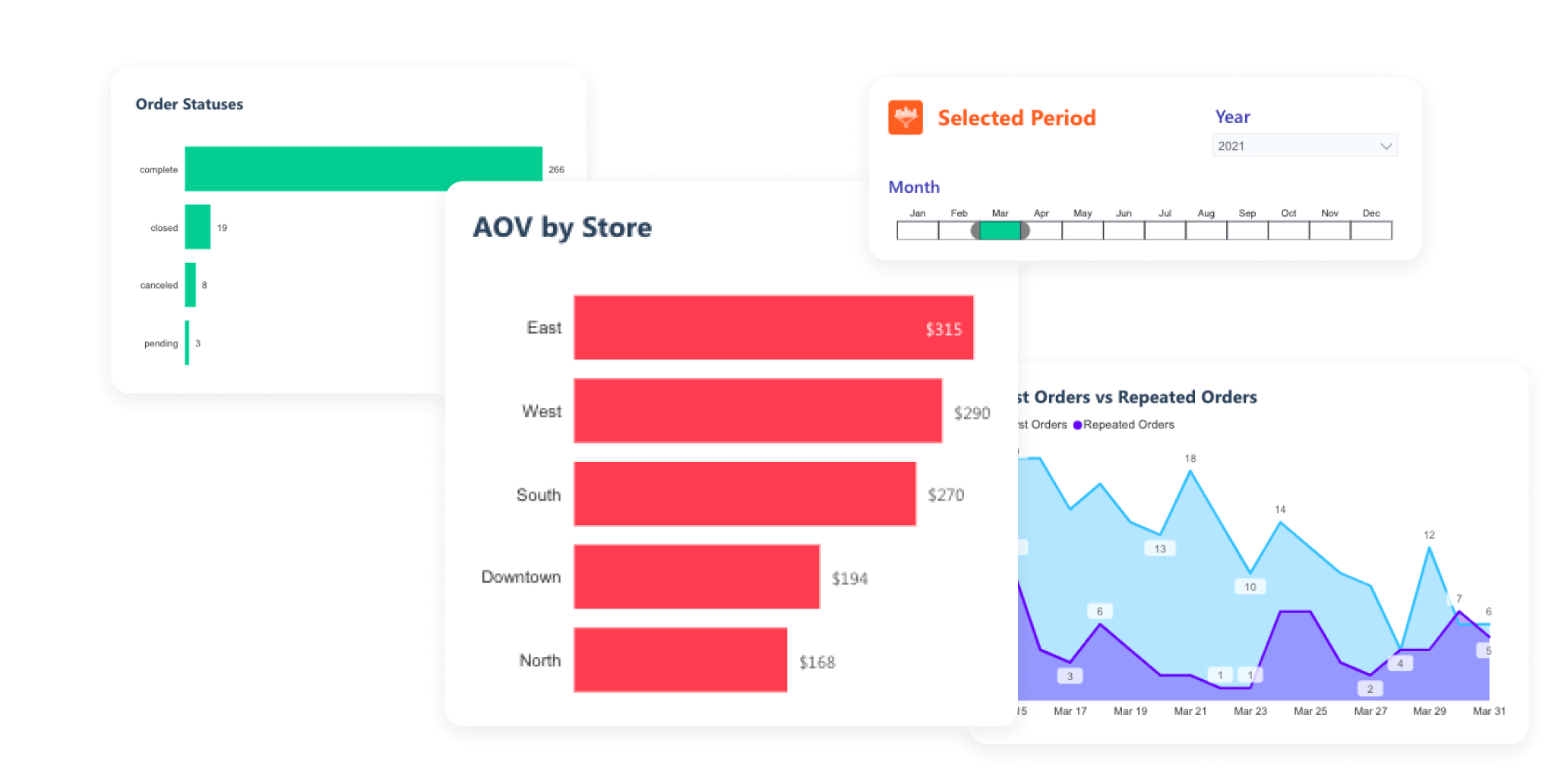 Order Analysis
Order Analysis will show you the percentage of growth or decline in the selected period, the Average Order Value in comparison of Items Count and by country, comparison of the First and Repeated Order, the Status of Orders, Customer Group and Stores, the Number of Orders by Website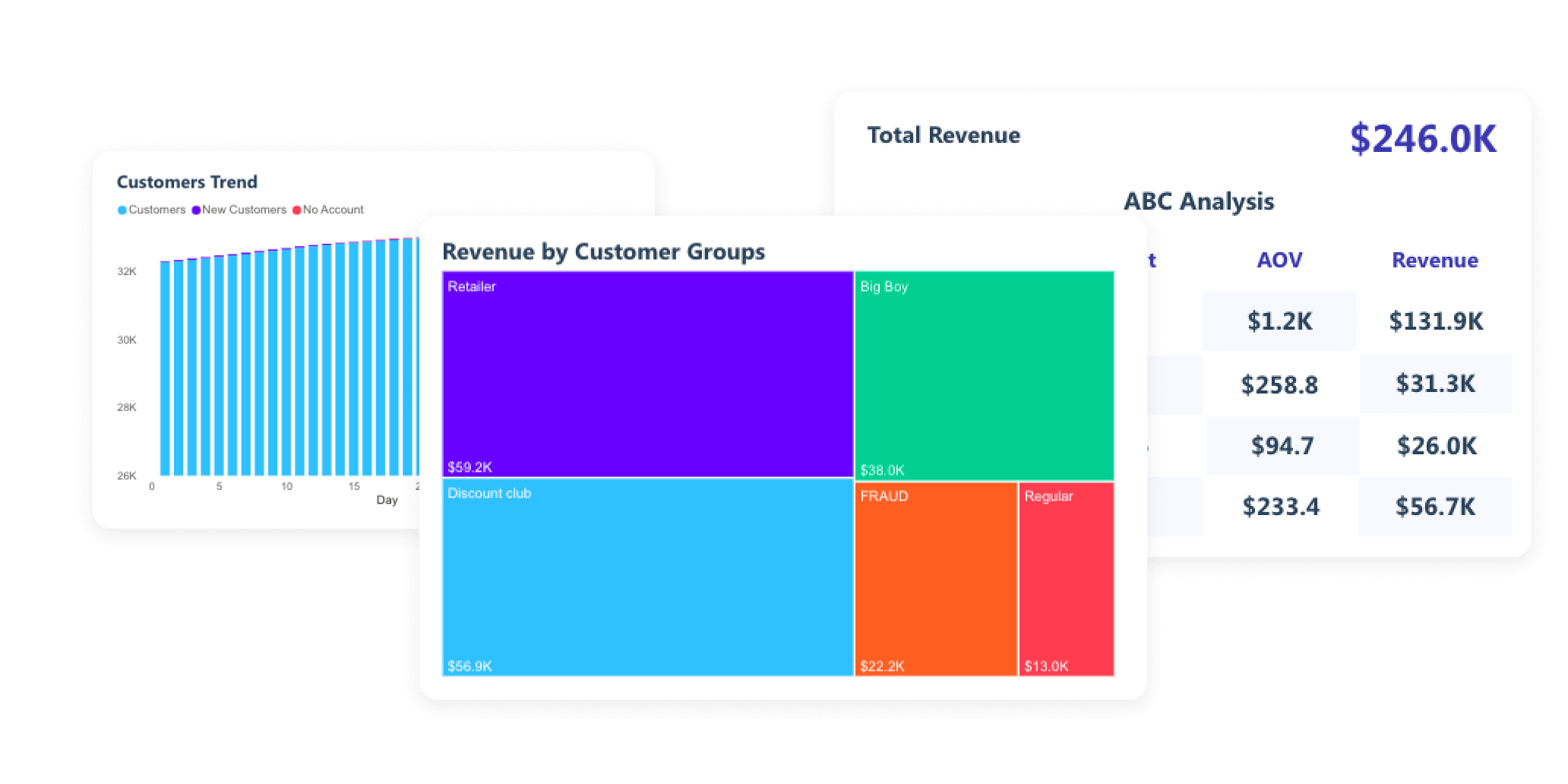 Customer Analysis
Customer Analysis will show you the Total Number and Growth of Customers and their performance. The customer ABC analysis provide you information of the most profitable Customers, their Number, Average Order Value, and Customers Without Account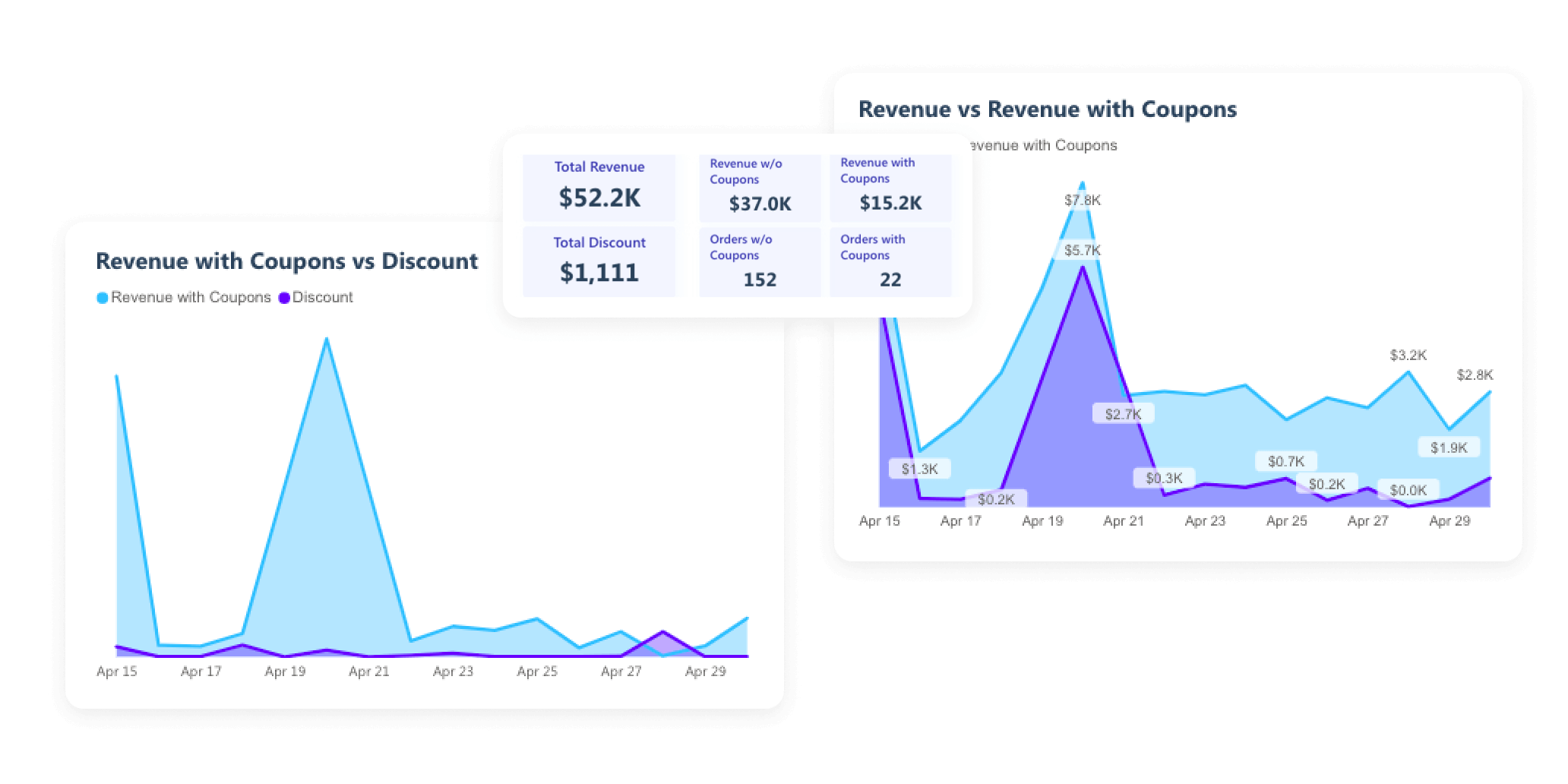 Coupon Analysis
Coupon Analysis will show you Customers use Coupons compared to the Total Number of Customers, amount of Revenue with Coupons in comparison with the overall performance. This is an excellent opportunity to see the effectiveness of coupon usage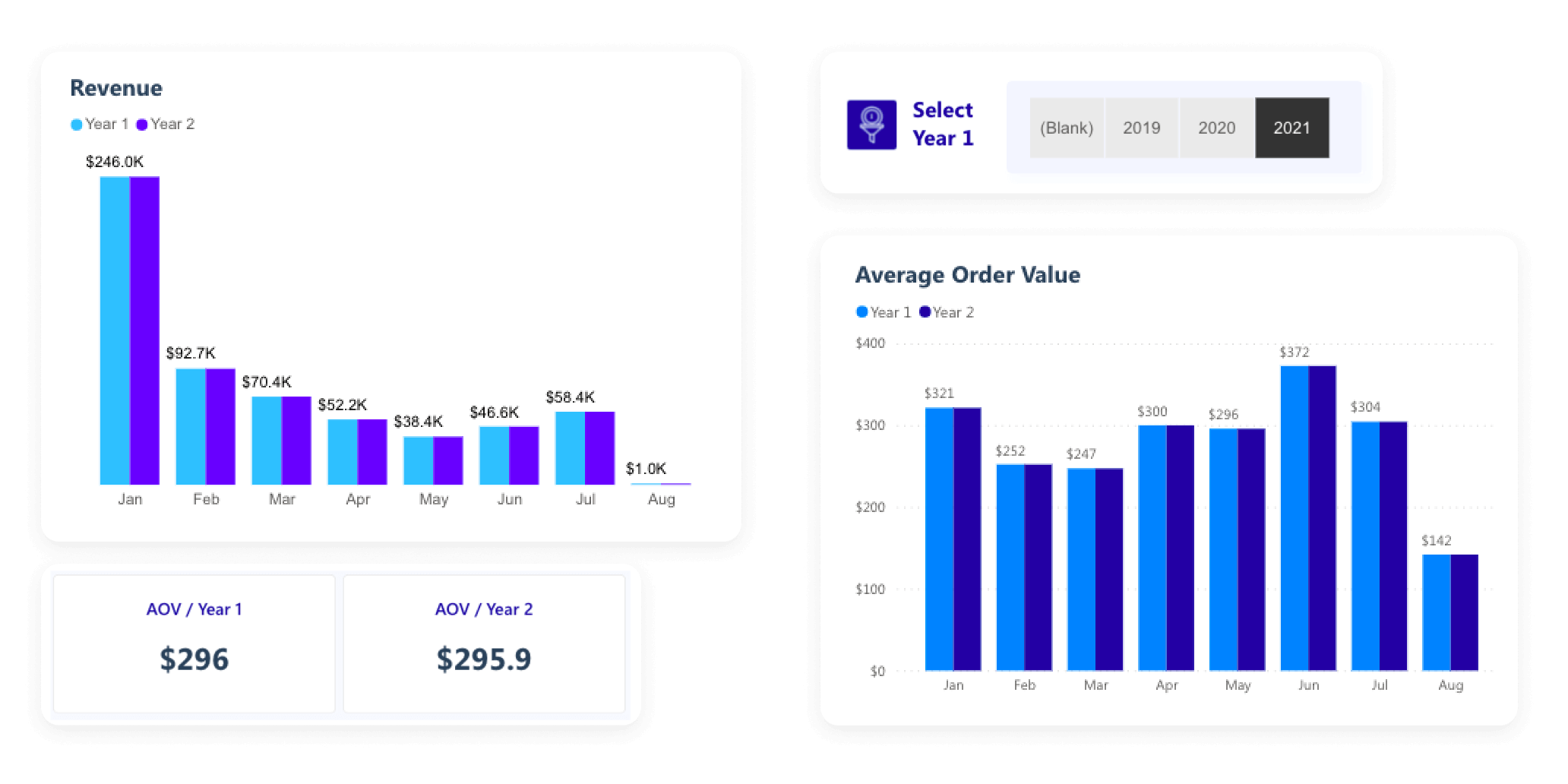 Comparative Analysis
Comparative Analysis will help you to determine how a business is performing based on the difference from the previous year. The dashboard includes comparative reports by Revenue, Revenue with Coupons, Average Order Value, and New Customers
Connect Your Magento Store With Power BI
This Magento integration is free and does not require any additional setup nor extra extensions in your store. With the right capabilities, you can have confidence in the decisions you make!
GET IT NOW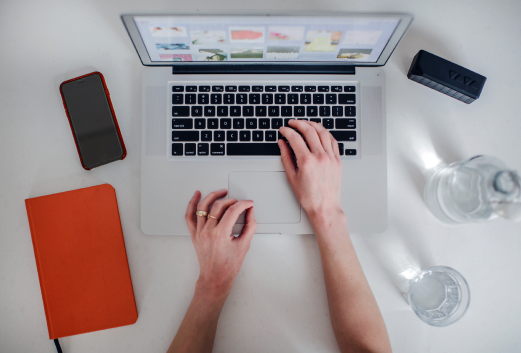 Have A Question? Need Support?