Best CRM systems for your Magento 2 website
Today's CRM market is growing extremely fast and has become the biggestsoftware marketglobally. Every CRM has a different type of function, some of them focus on sales, and some of them can cover the whole marketing and business tasks. So it's become tricky for merchants to choose the right CRM with all needed features and a system that can be easily integrated with a Magento-based store.
In this article, let's look at the most functional CRM platforms for Magento 2 stores.
Key Benefits of a Magento CRM Integration
Magento and CRM integration opens many possibilities, including product advertising, list tracking, contact management, and customer engagement. The true Magento 2 CRM integration allows merchants to handle customer communication and reduces manual interaction time.
1. CRM tracks and manages customer data
Magento & CRM combination can add more value to potential customers' profiles by analyzing their social media profiles and other web information. You can also track your site visitors' activity, such as the categories of products they've searched and browsed. By gathering all those data, you will know your users, their preferences, and what products they want to buy.
2. Magento CRM converts traffic into sales
Based on where clients go on your e-commerce website, CRM will track all those interactions, and you can create recommendations and suggest products
3. Magento CRM provides personalized marketing
Experts have found that 80% of eCommerce users only choose companies that personalize their experience (recognize them by name, recommend options based on past purchases, know their history, etc.). CRM for eCommerce will allow you to send personalized emails offering specific products, discounts, or promo campaigns. CRM helps to boost conversations rate and loyalty and ensures repeat purchases.
4. CRM makes your customer support WORK
Repeat purchases and loyalty also come with sufficient customer support, whether tracking shipping issues, managing exchanges/returns, or simple FAQ.
It's vital to choose CRM software that comes with support integration so you can work seamlessly and stay on the same page with customers.
5. Know your traffic sources and domain score
If you want to take it one step further and analyze how your business is performing, look for an e-commerce CRM with SEO features. You can understand how a particular marketing campaign was executed, what sources your buying group came from, what region you get the most website and app visits from, etc.
What to Consider When Choosing a CRM for your Business
Simplicity. The learning curve is an essential factor for e-commerce businesses. Most companies don't have time to master the overly complicated systems that larger companies usually use. So you don't have to bring in an IT guy or CRM expert to show you how to use the tool.
Ability to customize. The customization option is essential, as you can extend CRM with features that can be critical for your business.
Integration with other tools. It's always nice to have software compatible with third-party systems and tools.
Magento integration. The easiest way to connect your Magento store with a CRM system is by installing an M2 extension or integration via API. In any case, it is better to use services from a professional e-commerce development company to choose the best installation method for your store and set up the system correctly.
Choosing the optimal CRM system for business needs is a challenge, and making the right choice is not always easy. Various platforms on the market offer a diverse range of options. Decima Digital has prepared an in-depth review of the most popular CRMs to help you choose the best solution for your Magento store.
Top CRM systems for your Magento 2 website
Monday CRM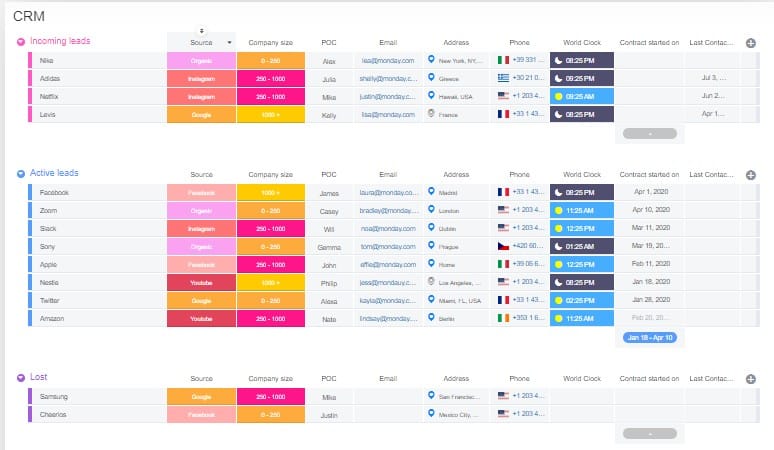 Monday CRM features include sales order tracking, lead generation via web forms, monthly goal tracking, and pipeline management. This system provides excellent features to manage your sales funnel, track leads and customers, and visualize your entire sales process.
You can integrate monday.com with all popular apps and services such as Excel, Dropbox, Google Drive, Google Calendar, Slack, Integromat, Zapier, and Trello.
The cost of Monday.com increases as you get more features and as your team grows.
Pros of Monday CRM:
convenient interface and lots of features
extended possibilities for detailing tasks and controlling their execution
a large number of templates for different tasks
extended functionality for working on tasks – ratings, statuses, links, comments
Cons of Monday CRM:
limited reporting options;
expensive for large teams.
Freshworks CRM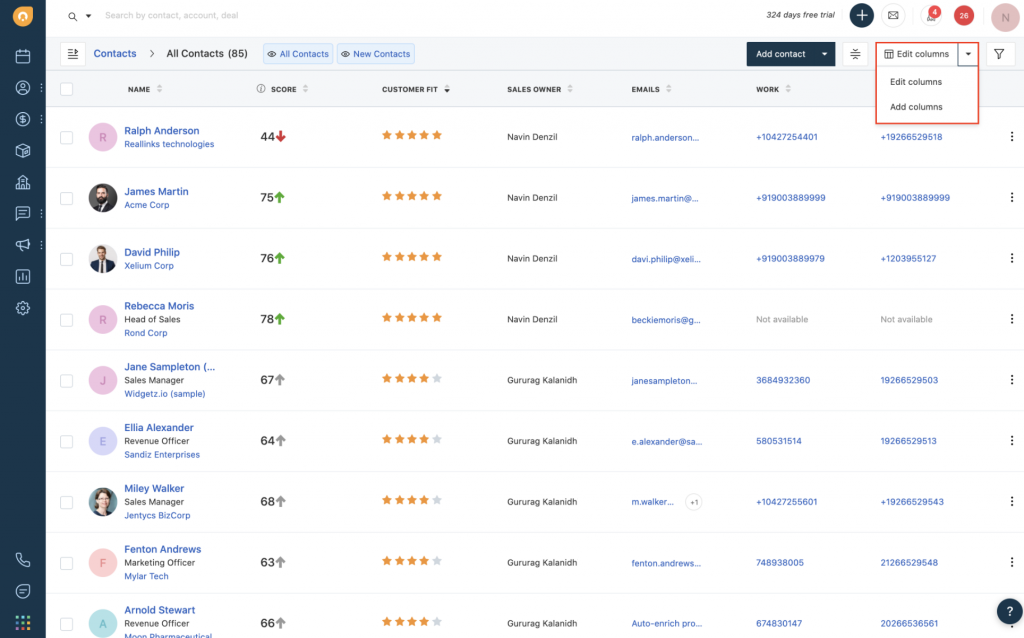 Freshworks is a cloud-based CRM system that helps small and medium businesses organize and automate sales, marketing, and customer service workflows. It's suitable for companies that want their marketing teams to work together to generate, manage, and transact leads using just one piece of software.
Hubspot, Mailchimp, Quickbooks, and Slack are just a few of the well-known business apps that Freshworks CRM can be integrated.
Pros of Freshworks CRM:
easy to use
built-in phone with call records
two-way email sync and bulk email management
artificial intelligence automation
visual sales funnel
Cons of Freshworks CRM:
not the best option for complex business processes and large businesses
available integrations are limited
Pipedrive CRM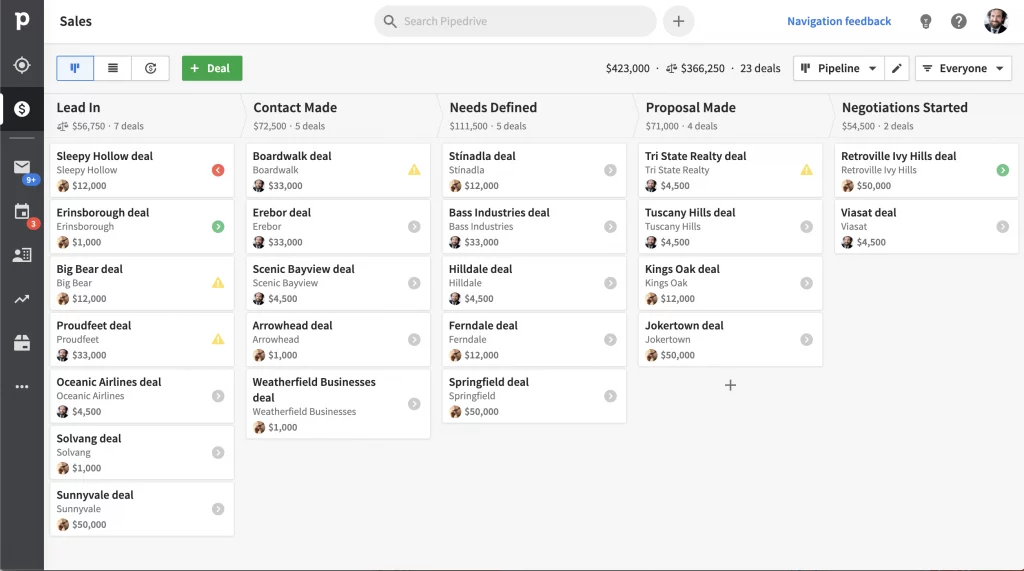 Pipedrive is a fast-growing CRM system. It primarily focuses on sales tasks and account management rather than marketing processes. Pipedrive has four different pricing options: starting from the simplest one (€15 user/month) to an enterprise-level plan.
The main functions of Pipedrive:
sales channel overview – allows you to view information about the status of activities at all stages of sales
contact history – Pipedrive contains a record of interactions between sellers and potential customers; for each contact, there is the ability to add notes
timeline – is a tool for tracking sales over time
sales forecast – provides planning and evaluation of expected financial results
sales reports – Pipedrive has developed a customizable reporting system that users can tailor to their needs
integration – Pipedrive integrates with third-party applications, including Dropbox, Google Drive Services and Drive, and Google Maps. In addition, the system can integrate with various applications via the API interface
data import and export – for data exchange, there is a possibility of data import/export
multi-language support
works with several currencies
Pros of Pipedrive:
ease of use, the interface and system settings are intuitive and simple
cost, for its segment Pipedrive is a relatively inexpensive option
data security and backup
Cons of Pipedrive include:
there is no integration with accounting, which makes it challenging to send invoices and maintain agreements
focused on sales functionalities
the reports are limited
Zoho CRM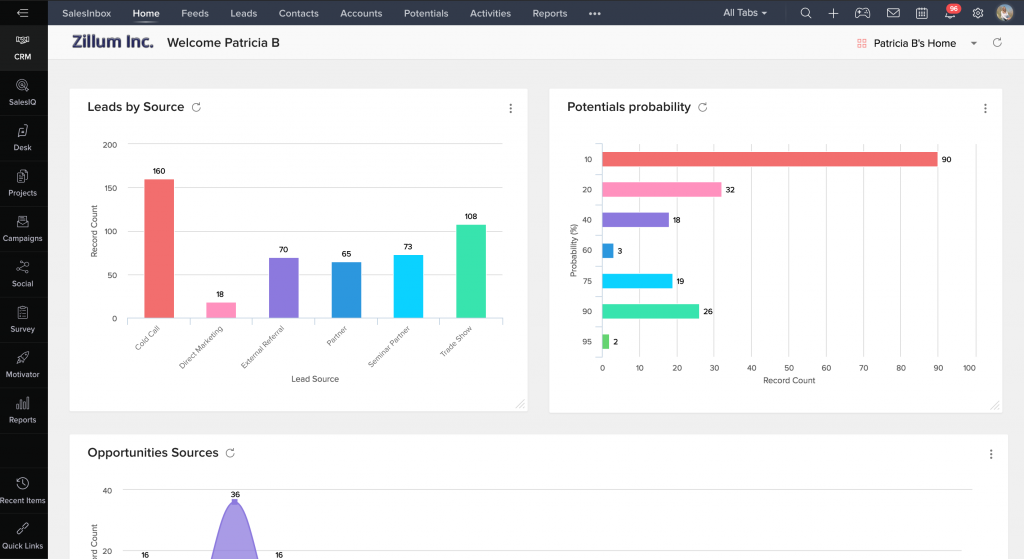 Zoho is more than a simple CRM system; it combines CRM, customer service, emails, finances, human resource management, and IT & helpdesk solutions for e-commerce stores.
There are several ways to integrate Magento with Zoho; the most popular choice is a Magento 2 extension that you can download from the marketplace. But most integrations offer a limited amount of data that will transfer from your e-commerce website to CRM. If you are looking for custom integration or want to get more specific data, we recommend you to check our latest case study on Zoho CRM and Magento integration.
The basic modules of the system are:
Marketing module – designed to support marketing activities. Allows you to plan, organize and control marketing campaigns. Includes tools for working with targets, preparing reports, and managing interactions.
Sales module – necessary to manage sales and related activities. Provides account management, contacts, tasks, activity tracking, sales quotes, order processing, and generates sales reports.
Customer support – automates customer interactions. It makes it possible to set up situational management, set routing rules based on incidents, set task escalation, and form a customer knowledge base. Provides integration with mail and telephony and supports reporting on work with clients.
In addition to the basic modules, the system contains extra components that expand the system. The functionality and composition of the features vary depending on what you want to have for your e-commerce website.
Pros of Zoho CRM:
a comprehensive range of sales, marketing, and customer support functions
rapid deployment of the system using cloud solutions
the possibility of expanding functionality through integration with other products of the company
a freemium version
Cons of Zoho CRM:
limited functionalities for social media automation
limited toolkit for software customization
can be expensive for small businesses
Sendinblue CRM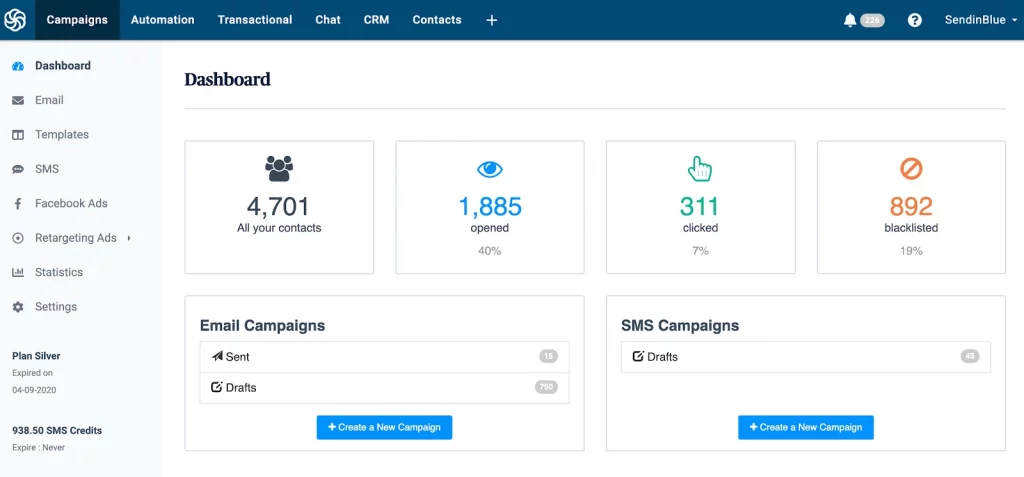 Sendinblue is a marketing automation platform for sending emails and managing clients. The software is the perfect choice for small business owners. The monthly price depends on the number of emails you want to send to your customers; the cheapest Lite plan starts at just $25.
The tool combines email campaigns, a CRM system, and transactional email functionality.
With Sendinblue CRM, you can organize contacts based on specific characteristics such as new leads, existing customers, and much more. You can also group contacts based on conversion funnel steps, acquisition source, and any other custom criteria that work best for you.
Another great thing is the option to create tasks and deadlines for the team. You can automate follow-up emails and list management using the marketing automation feature.
Pros of Sendinblue:
good, reliable, and flexible marketing features
advanced mailing settings, a wide selection of design templates
loading the database of contacts from external sources
Relatively reliable reporting and deliverability
a free trial and a freemium version are available
machine-learning inside CRM
Cons of Sendinblue:
free plan sending limit: the free plan has a daily sending limit of 300 emails
sometimes the web application is a bit slow when loading certain pages.
lacks third-party integrations
doesn't have an option to create a Double Optin email newsletter
Hubspot CRM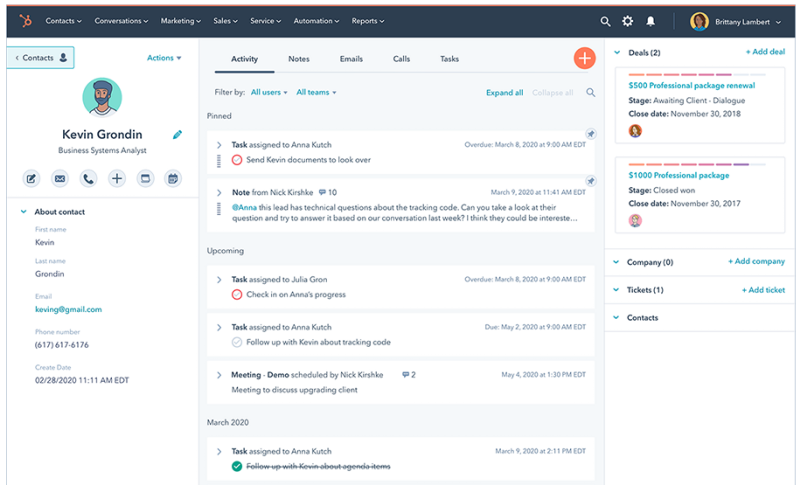 Hubspot is cloud software with many marketing functions: advertising mailing, live chat, traffic and conversion analytics, contact management, etc. It's a preferred choice for B2B companies, online services, and IT companies. It is possible to use Hubspot with other CRM systems, like Salesforce or Sendinblue.
The system allows you to segment your client base, maintain pages on social networks, create landing pages and design forms, and carry out email newsletters.
Hubspot provides a freemium version that includes a CRM system, contact form, and live chat. It's a very flexible system as you can choose what will be suitable for your business model. The pricing policy has different packages, so you can pay separately per feature, like Marketing, Customer support, or CMS, or create bundles containing Marketing + CMS, CRM + Customer support, etc.On average, the price for the package starts from €41 per month.</span
Pros of Hubspot CRM:
tracking client actions – after installation on the site, the script binds to the client's card all the actions that they performed on your site, as well as information about where they got to the resource from
free use – the main features and functions of the software are available free of charge without restrictions on the number of contacts
convenient interface — all information about contacts, calls, negotiations, and transactions is recorded automatically.
excellent A / B testing and analytics
more than 200 integrated services to customize the system to suit your needs: Mailchimp, Slack, Facebook Ads, Drift, Intercom, Shopify, Zapier, Salesforce, OptinMonster, etc.
Live chat for the site
Cons of Hubspot CRM:
expensive for higher levels – The free version of HubSpot does not include any marketing automation tools, and you can expect to pay at least $ 800 a month for the premium plan
Thryv CRM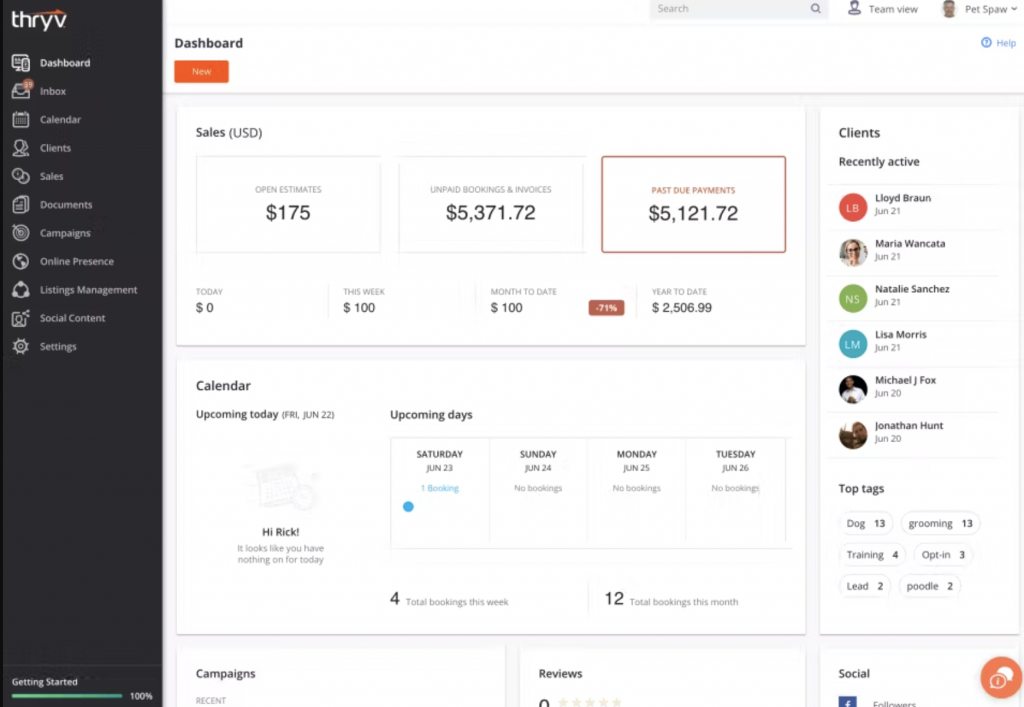 Thryv is a versatile business software package specifically focused on small businesses. CRM is one of Thryv's core directions, but it also manages sales and payments, customer service, marketing automation, document storage, social networking, and more.
In terms of CRM features, Thryv allows users to add custom fields and tags for better customer segmentation, engage potential customers through the sales funnel with automatic reminders, and automatically populate customer profiles with external information to better understand customers. You can also create a customizable web portal where customers can log in, make payments, send messages, etc.
Pros of Thryv CRM:
CRM module leverages customizable tags, and segmentation for better and faster contact retrieval and data recovery
dedicated web portals are customizable for each customer or group, where they can communicate with you, set appointments, or send payments
you can securely send, request, and share documents with teammates and clients with advanced privacy settings and plenty of cloud storage
a mobile app that includes all the features of the web version
Cons of Thryv CRM:
lacks formatting and multimedia options when writing messages
a limited number of ways to create and send newsletters via email
Agile CRM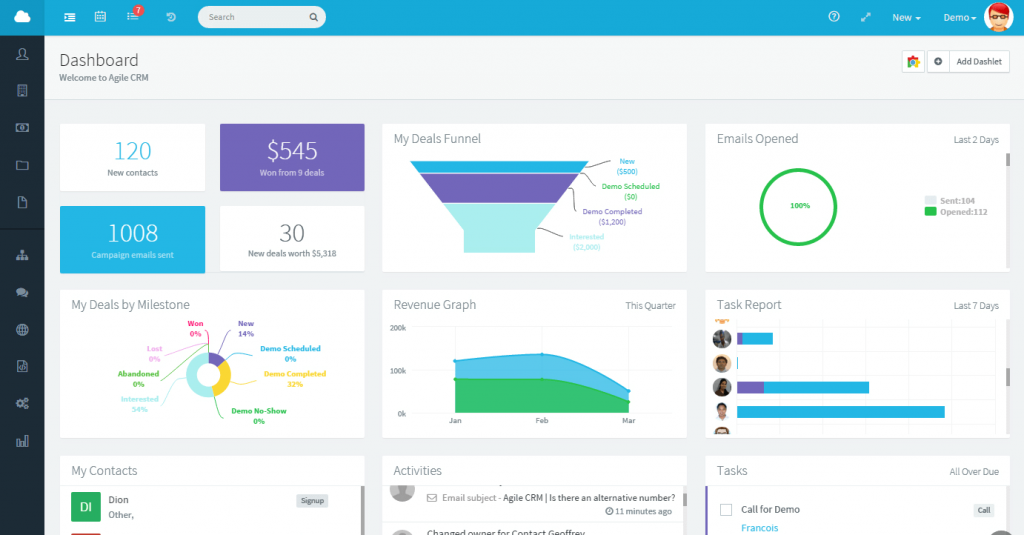 Agile CRM was included in this list because it is a comprehensive solution for small companies. Agile focuses on three main areas: sales support, marketing automation, and customer service. The company provides a freemium version that could be a nice choice for startups to try the tool.
Agile CRM suggests a variety of packages, from the freemium version for small businesses with up to 10 users to an enterprise-level that contains around 50 plug-ins and integrations with third-party websites and tools.
One of the most vital features of Agile CRM is reports building. You can get a complete view of all e-commerce starts by grouping statistics by transactions, calls, activity, and performance growth.
Pros of Agile CRM:
workflow automation with a drag-and-drop feature
personalization through widgets, own plugin library, and open API
calls in one click, synchronization with mail services and telephony
Vide range of client support through surveys, forms, pop-ups, and messages
Cons of Agile CRM:
Lack of tutorials for advanced features
Automation features are challenging to understand
Metrilo CRM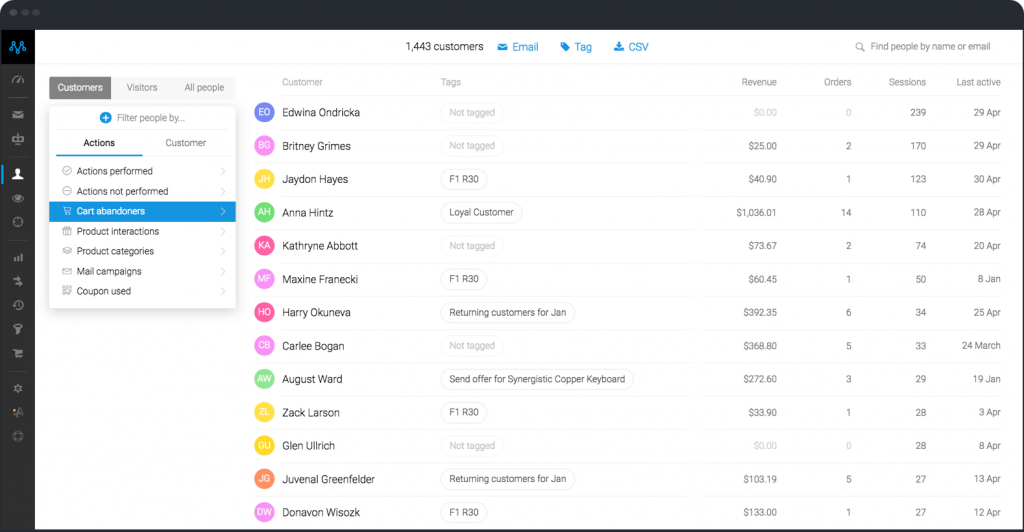 Like most CRMs, Metrilo's customer relationship management platform allows you to create customized customer profiles. You can view customer behavior, orders, money spent, purchased products, and other details.
To better organize contacts in CRM, you can create customer segments, assign customer tags, and set filters. Thanks to Metrilo custom filters for contacts, creating personalized interactions with customers has become easy.
Metrilo CRM is often used by e-commerce owners, as CRM tracks complete customers' journey: you will know what actions are taken in each session, all product interactions, order history, lifetime spend, and contact details.
The price for CRM starts from $119 per month for unlimited user numbers and e-commerce analytics.
Pros of Metrilo CRM:
advanced segmentation
analytics and customer data focused on e-commerce;
an unlimited number of users. There are no monthly fees per user, which means Metrilo can be a more affordable option for larger teams.
no limit on the number of emails you can send;
abandoned cart email campaigns;
free trial and demo available.
Cons of Metrilo CRM:
email marketing automation available only in enterprise-level plans
Metrilo is not suitable for startups
no phone support
no free plan
a limited number of built-in integrations
self-development documentation seems sparse and does not provide users with detailed technical knowledge.
Final Thoughts
In general, the CRM you choose for your Magento store should do three things:
Save time.
Help you deliver superior customer service.
Bring more money to your business.
So, you will provide high-level customer support and personalized marketing, and satisfied customers will return for a repeat purchase.
If you're still unsure if you need a Magento CRM integration or which system to use, Decima Digital will help you make a perfect choice. We offer only proven e-commerce solutions with maximum customer value.
You May Also Like
No feed found with the ID 1. Go to the All Feeds page and select an ID from an existing feed.
Read next
Do you know a really good procurement system? Are you sure it is good enough
Every time starting a new integration project, we usually think about different ways to implement
ADA (short for the Americans with Disabilities Act) is a civil rights law that forbids