How to Choose the Best Hosting for Magento 2
Did you know? Due to the increased demand for high-quality services in recent years, 47 % of users expect a webpage to load in only 2 seconds or less. That means it's important to have a website with competitive speed. While there are a lot of factors that affect website performance, today, we'll be focusing on the most vital part: hosting.
Choosing the right hosting provider is a critical step when building your store, and even more so for a Magento website. Before you decide to go with the first hosting company you see on the web, make sure you understand your company's needs and technical requirements relevant to your future website.
The first thing to look into is hosting type. 
There are four most common types of hosting.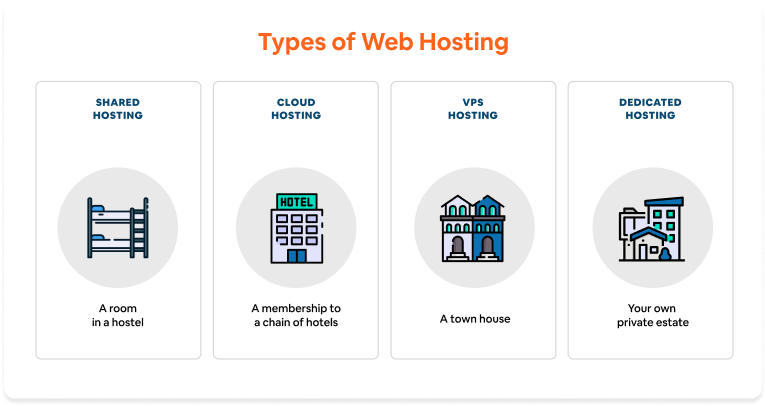 1. Shared Web Hosting

 
As the name implies, this type of hosting allows you to host your site on a server shared by other websites. The main advantage of this solution is that you get to use a shared super server for a relatively low price. This makes it great for small and medium websites that don't get too much traffic. For an enterprise, this might not be the best choice. If the others on your shared server have frequent load spikes, it will affect your performance.  And if your server neighbors are spammers and have a shared IP, your email might not reach your customers.
With shared web hosting, all of the technical responsibilities are on the provider. This includes server management, tech support, tracking the latest interface or security updates, and dealing with hosting issues. 
Shared web hosting works in two ways: Most commonly, there's Protocol-based hosting. This is when every host has their own IP address. On one physical interface, a server can be configured with multiple VPN interfaces. From here, the web server connects clients via IP address. 
The other option is name-based hosting. With this setup, virtual hosts all have one IP address on one device. In terms of shared options, this is the most communal it gets. If bandwidth and customizations take a back seat to ease of use, this is a great choice.
2. Dedicated Web Server
On the other hand, dedicated hosting is more expensive than a shared one, but you have the entire server to your needs. This makes it a great solution for large eCommerce stores that get a lot of traffic and therefore need to ensure the best loading time and performance. Additionally, if you'd like to, you can have full control over everything that happens on the server.
In a world of exponential internet traffic,  it's not smart to be weighed down by the needs of others. With a dedicated web server, you don't have to worry about being weighed down by the traffic of other websites on the same server. There's also much more secure with this option because you're the only one with the ability to access your dedicated server. 
One huge drawback to dedicated web servers is that they require someone who really knows what they're doing. While other forms of web hosting give you less control over your experience, they make it, so you have to deal with advanced technical concepts. Unless you already know your way around computer science or your business is profitable to hire full tech support, you may want to find another option.  
3.

Cloud-Based Hosting
Cloud-based hosting is a relatively new technology that has become popular in recent years. Rather than leasing a physical machine with a fixed hardware profile, you lease resource usage, which can be scaled up via software. Are you someone that needs extra hard disk space for your laptop vs. Dropbox? You probably understand the appeal of cloud computing. It increases uptime and, at the same time, decreases the possibility of errors, all while eliminating hardware costs and maintenance. This scalability is definitely an advantage for fast-growing businesses.
Selling products online has pretty much become the gold mining of the 21st century: it's so profitable and rapidly growing that there are entire industries that stem from it. The best business model for online shopping is one that actively follows the new technology. Every successful business, from FAANG companies to Fortune 500 startups, is using cloud-based hosting. According to many experts, now is the time to upgrade. 
4. Virtual Private Server
Perhaps you value security and use VPNs for all of your online surfing. If this sounds accurate to your server personality, here's an option for you. Virtual Private server, or VPS, is somewhere in between shared and dedicated types of hosting. It's basically a  single physical server split into a few virtual ones. This way, even though the main server is shared, you get dedicated resources for your site's needs. VPS hosting is best for small or medium-sized businesses that have outgrown the resources of a shared hosting plan and need a more reliable hosting solution.
With the advent of the internet, it's easier than ever for virtual competition to take the place of a traditionally physical item. Virtual private servers are the ultimate example of that, with a virtual dedicated server on a shared server. Users can get all the security and bandwidth features they need from their own server without the money or experience necessary to have a dedicated server. 
While all of these hosting types have their own pros and cons, cloud hosting is generally considered the best choice in 2021.
You should also be aware that there are a few more tricky details when it comes to Magento.
The first one is a LAMP or LNMP stack.  These acronyms stand for the Linux operating system, Apache HTTP Server or Nginx Server, MySQL relational database management system, and the PHP programming language. All of these things are needed for your Magento store to run smoothly. They must also be able to run scheduled cron jobs with PHP and override options in .htaccess files.
Another factor that is extremely important for any eCommerce site is security. The essential security features include the following:
server hardening

an advanced firewall

DDoS protection

SSL integrated

automatic backups
When choosing a hosting solution for your Magento store, select a provider with a proven track record in Magento tuning. Do not forget about proxy, caching, reverse proxy, load balancing, and other recommendations your Magento development team might have.
You May Also Like
No feed found with the ID 1. Go to the All Feeds page and select an ID from an existing feed.
Read next
With the Black Friday and Cyber Monday Sales right around the corner, how can
If you're looking for an e-commerce platform that can handle large and small projects,
With the growth of mobile platforms, the use of social media, and the rise