Top 5 Headless Ecommerce Platforms for B2B
With the growth of mobile platforms, the use of social media, and the rise of the "Internet of Things", the web is becoming much more of a personalized experience. For the modern e-commerce business, this means it's essential to understand the needs of its customers and tailor its communications to them. And Headless eCommerce is the future of digital commerce. There are various reasons to use one, but they boil down to one thing: You get more flexibility and scalability.  
As a B2B business owner, you always want to be ahead of the curve and use the latest and greatest technology. That's why we recommend that you consider moving your entire content to a Headless eCommerce platform so that you can deliver an outstanding experience across all your channels.  
In this post, we'll discuss the most interesting headless e-commerce platforms and how they can help your business.
What is headless e-commerce?
First, we should take a step back and explain what a headless platform actually is. Headless eCommerce is a term that's been around for a while. It's a term that's getting picked up more and more these days as the benefits of headless e-commerce platforms become more prevalent.  
If you're not familiar with what headless e-commerce is, it's simply when you remove the "head" from e-commerce.  
"Headless eCommerce" refers to removing any code that interacts with the front-end of a website.  
A headless e-commerce platform is a platform that decouples the front-end and back-end of an e-commerce store. Headless eCommerce technology allows for faster development and more flexibility when it comes to the design of a site and functionality.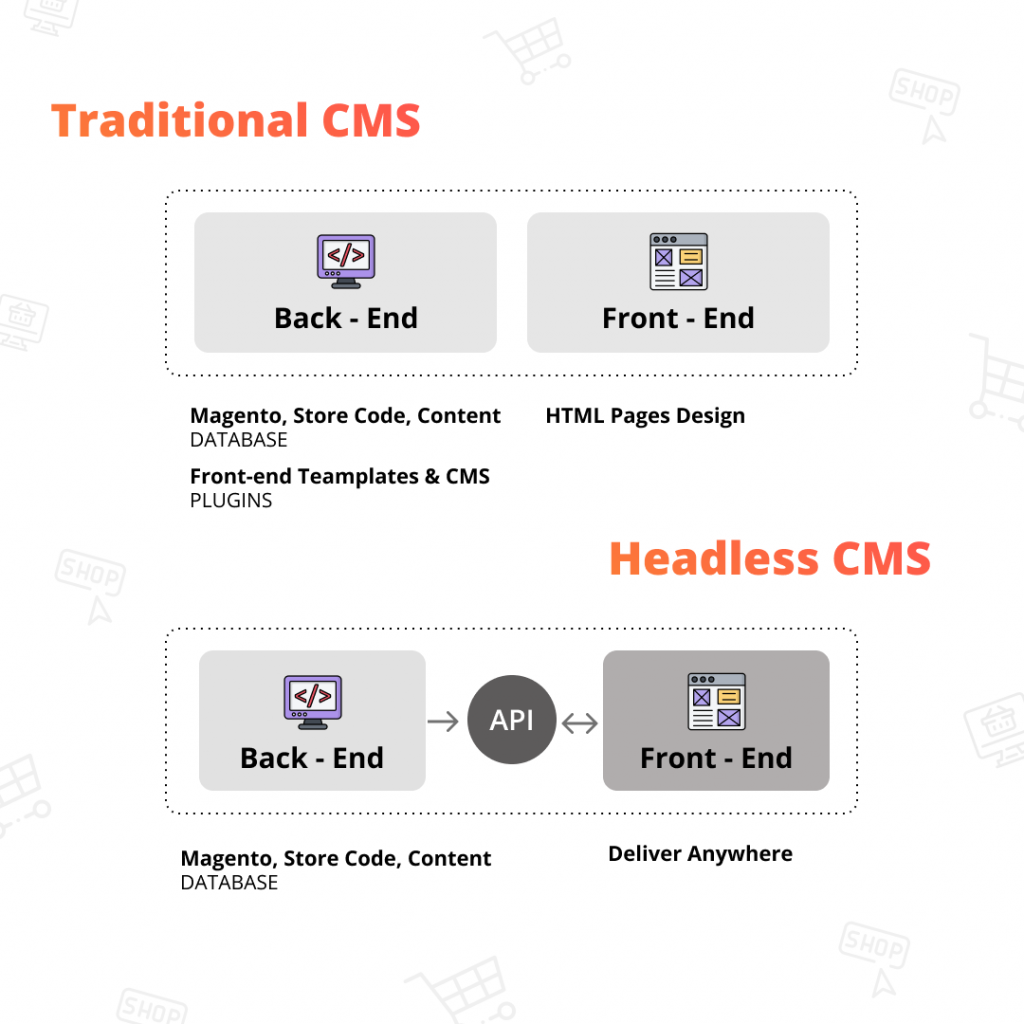 Why B2B should use a headless eCommerce platform
There are many reasons why you should choose a headless e-commerce platform.   
First of all, it allows you to customize the look and feel of your store completely. You're not limited by the platform's design or functionality. This approach will make changes to the front-end experience easier and more secure and won't disrupt your online shop architecture.  
Headless eCommerce is much more scalable than a traditional e-commerce approach: you can easily add or remove features as your business grows.  
Plus, it's more flexible when integrating third-party applications, such as ERPs, CRMs, and payment gateways. Headless eCommerce makes integrations faster, cheaper, and easier to create, thanks to an API-based approach.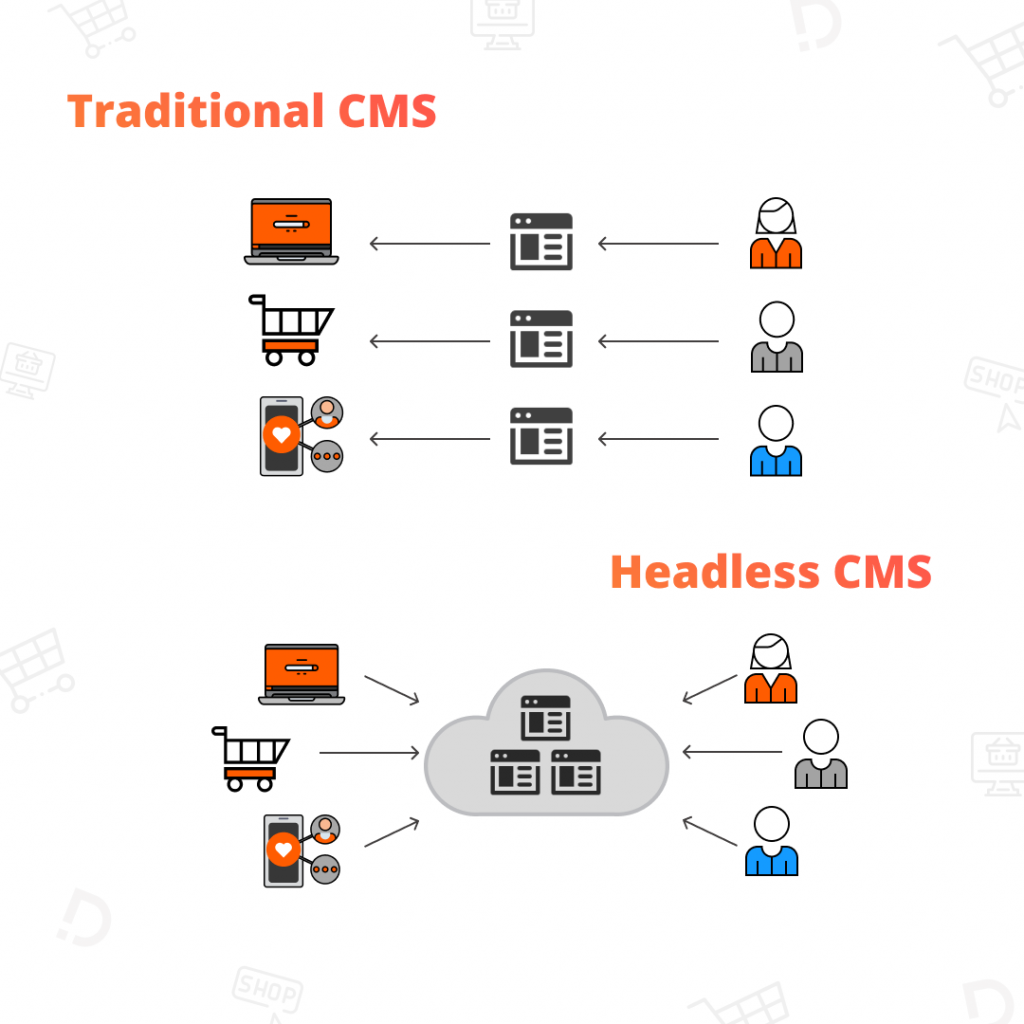 What are the top 5 headless eCommerce platforms for B2B
1. Adobe Commerce / Magento Commerce
Adobe Commerce, formerly Magento Commerce, is one of the most popular open-source headless eCommerce platforms. Many business industries use it as a platform that allows them to customize their eCommerce store according to their needs. Adobe Commerce platform focuses on enterprise and B2B companies so that it can handle massive traffic and transactions.  
Adobe Commerce provides a number of valuable features for B2B organizations that sell online. As B2B customers are not the same as B2C customers, their sales cycles are different; they're more likely to be logged in and have specific purposes, to negotiate the price or run a specific transaction.  
Why Adobe Commerce is an ideal choice for B2B businesses who want to implement headless e-commerce:  
The front-end of an online store can easily update without upgrading the backend 

 

Has a multi-channel commerce tool set to increase customer engagement rate 

 

Possibility to create a unique and custom design of e-commerce website  

 

Fully functional PWA Studio to build progressive web apps 

 

Page Builder with a drag-and-drop feature to create pages without any technical skills

 
2. Commercetools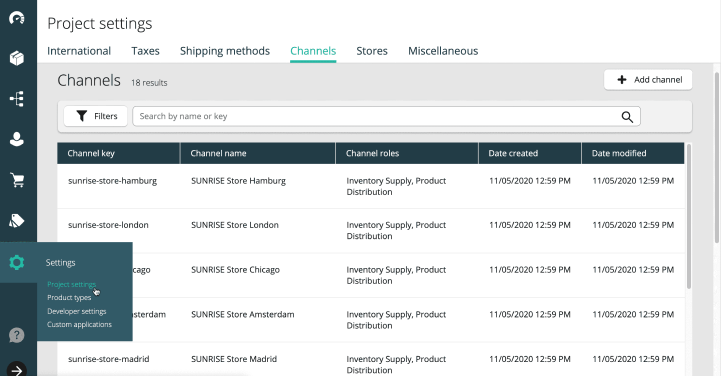 Commercetools is an omnichannel e-commerce platform for businesses that want complete control and customization their infostructure. With a modern MACH architecture, Commercetools provides ready-made commerce building blocks that can be scaled to fit B2B needs.  
Commercetools comes with a Merchant Center – a perfect solution with PIM (Product Information Management) software to help you manage product data, orders, and customer information. The user interface is intuitive and easy to manage retail operations across all channels.  
The key features of Commercetools as a headless platform  
API-first approach allows to connect backend to all frontends and third-party applications to achieve unrivaled levels of flexibility. 

 

Flexible and open APIs to modify and extend your business ecosystem 

 

Provides eCommerce experiences through various channels: mobile apps, websites, VR applications, IoT, and other tools

 

Complete inventory management solution with features like tracking, adjustments, multi-store management, and returns

 
3. Fabric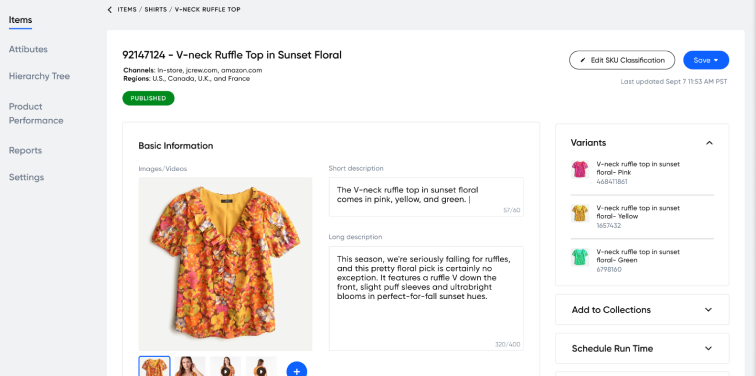 Fabric was named the most innovative B2B Retail startup of 2020, and for a good reason. It provides headless commerce solutions for distributors, manufacturers, and wholesalers, that want to build the entire e-commerce ecosystem in a couple of weeks without re-platforming.  
Fabric provides a complete ecosystem of commerce tools for management, including CMS e-commerce platform, product management, order processing, a range of commerce APIs, and promotions management. 
A scalable and modular commerce solution with the rapid storefront development 

 

Prebuilt design components powered by 

fabric XM

 and 

fabric Storefront

 

 

Has a CoPilot, a single e-commerce management platform for controlling inventory, prices, promotions, and products 

 

Easily adjust frontend without worrying about limitations from backend technology 

 

Possibility to manage multiple storefronts for B2C and B2B customer segments

 
4. Spryker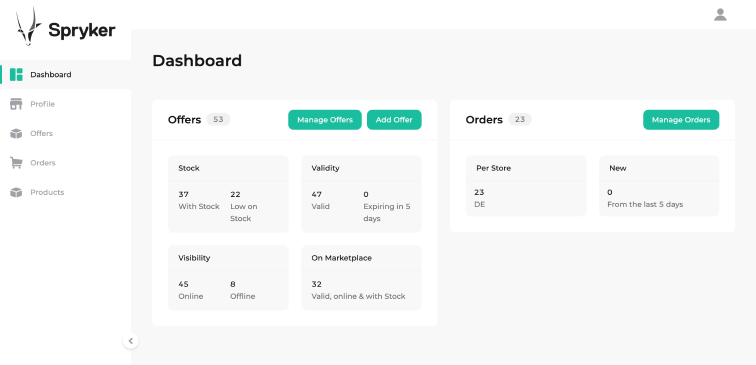 Spryker is the most customizable headless eCommerce platform that can cater to the needs of mid to large enterprises. Spryker is an open-source platform that embraces an API-first architecture and headless approach with greater flexibility and customization options.  
Over 900 API modules to create your own solutions and integrations 

 

It can be integrated with smart devices, legacy platforms, and IoT systems 

 

Powerful commerce features that meet the needs of large enterprises, like free hosting, real-time shipping quotes, and free site-wide HTTPS encryption 

 

A large and complex site up can be deployed in the shortest time.

 
5. OroCommerce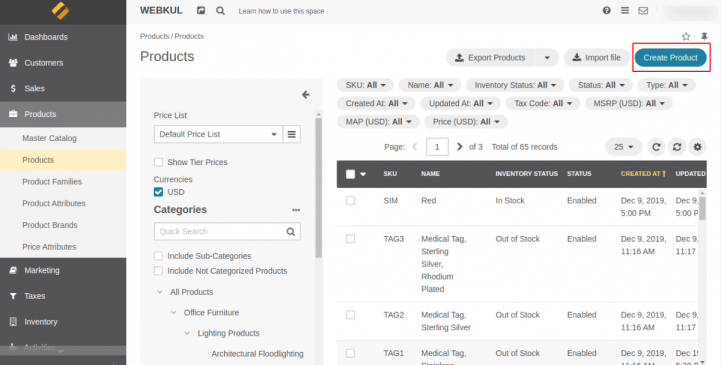 OroCommerce is an open-source, complete B2B solution that's flexible enough to fit any business model. It was designed specifically for B2B eCommerce and can be deployed in a SaaS/cloud environment or on-site. Gartner also recognized the platform and ranked OroCommerce as #1 for the B2B Digital Commerce Use Case in 2021.   
Oro has a built-in CRM and Inventory management system and gives you the power to manage multiple websites, warehouses, and product catalogs.  
Why choose Oro Commerce :  
You can manage multiple storefronts in one panel 

 

Integrates with numerous third-party software 

 

Built-in multi-channel customer relationship management 

 

Reach B2B features: personalized catalogs, promotion management, customers' corporate accounts, and others

 
Wrap up
If your B2B e-commerce business has an omnichannel strategy in a plan,  the headless eCommerce is the future. The headless approach ensures that your eCommerce website is always up. And you can schedule, automate, and personalize all your marketing activities so that you can spend less time on mundane tasks and focus more on generating leads and increasing revenue.  
These platforms offer great value, eCommerce functionality, and optimization opportunities to help you design the perfect digital experience for your clients.  
Our team can guide you through the complete process of choosing and setting up a headless e-commerce platform, including the development of custom features, integration with third-party applications, and designing and developing themes, templates, and modules. Sign up for a free discovery call. 
You May Also Like
No feed found with the ID 1. Go to the All Feeds page and select an ID from an existing feed.
Read next
With the Black Friday and Cyber Monday Sales right around the corner, how can
If you're looking for an e-commerce platform that can handle large and small projects,
Did you know your Magento website has its own virtual immune system? Regular Magento health