Adobe Commerce (Magento) as a procurement system.
Do you know a really good procurement system? Are you sure it is good enough for your company? Adobe Commerce (Magento) is a surprisingly good fit for a procurement system when the other are not.
Building an internal procurement system, you should take care of all these differentiations like employee status, existing assets, approval processes, onboarding new suppliers with supplier catalogs, and managing requisition lists and purchase orders.
COVID became a game-changer in the procurement world. BIG Corporations had to reconsider an employee workspace and interaction with procurement departments. Working remotely became very challenging for everybody; companies had to think about building "home offices" for their employees with a balance of security and comfort; employees had a challenge getting the office equipment at home.
What do we know about procurement?
Any companies have departments responsible for internal purchases, where employees can request new assets, replacing or repairing existing ones. These departments process employees' requests, manage approvals and cooperate with suppliers.
The procurement world is not new for Adobe Commerce. Adobe Commerce could be integrated into procurement systems using Punchout2Go or similar approaches. With this approach, you integrate your procurement system with a supplier website:
Each supplier introduces a different user experience. Each supplier has a separate website
No possibility of ordering the required staff at once. An employee has to create one requisition list per supplier.
Not all suppliers might offer a website experience. An employee has to interact with a procurement department to fulfill his needs.
What did we do?
The key idea was to give all 18.000 employees of a BIG corporation the possibility to build a personal "Home office" for remote work, manage existing equipment, and request new assets using eCommerce experience.
The Additional goals were to implement an excellent user experience in onboarding new employees, replacing or repairing employee equipment, automating new suppliers' onboarding, building regional catalogs, and having better exposure to the approval process.
Indeed, Adobe Commerce doesn't have all procurement features out of the box, but considering platform features and flexibility, it was an easy task for Magento experts.
#1 Onboard new Suppliers
Different suppliers might use different ways to share their catalogs with the company (CSV files, API, or SQL requests). It is almost impossible to have all suppliers using the same data feeds or integration approaches.
Taking all of the listed above, the iPaaS approach (integration platform as a service) should be the best solution. Where such platforms like Alumio, Zapier, or Mule can help build a single integration point for all suppliers and then push catalog data to Adobe Commerce using a REST API.
The beauty of this approach is that no custom coding requires, don't need to support legacy code, and a new supplier can be onboarded within a few hours.
#2 Workday & My Account
Using Magento flexibility and integration capabilities, there created an integration with Workday and the company Active Directory.
Such integration allowed employees to have easy access to Adobe Commerce (SSO, single sign-on experience), get detailed information about the existing assets and remaining equipment warranty, manage the employee catalog and delivery, and manage the approval process.
Integration with Workday allowed us to make the replacement or repair process to be more transparent for employees.
E.g. If an employee keeps a new laptop for less than a year, it is fair not to allow him to replace his NEW laptop just for fun.
#3 Procurement System (Coupa)
Implemented integration with procurement system Coupa, which allowed to:
Automatically convert employee orders into the procurement systems requisition lists.

Split requisition lists per suppliers.
Submit lists to the procurement systems.

Manage and track the approval process.

Submit approval to the procurement systems.

Manage Purchase Orders once the employee gets all approvals.
Update employee on the execution status, "Track your order".

Create shipments.
Add Tracking codes.
Note: in the same way could be implemented integration with SAP Ariba.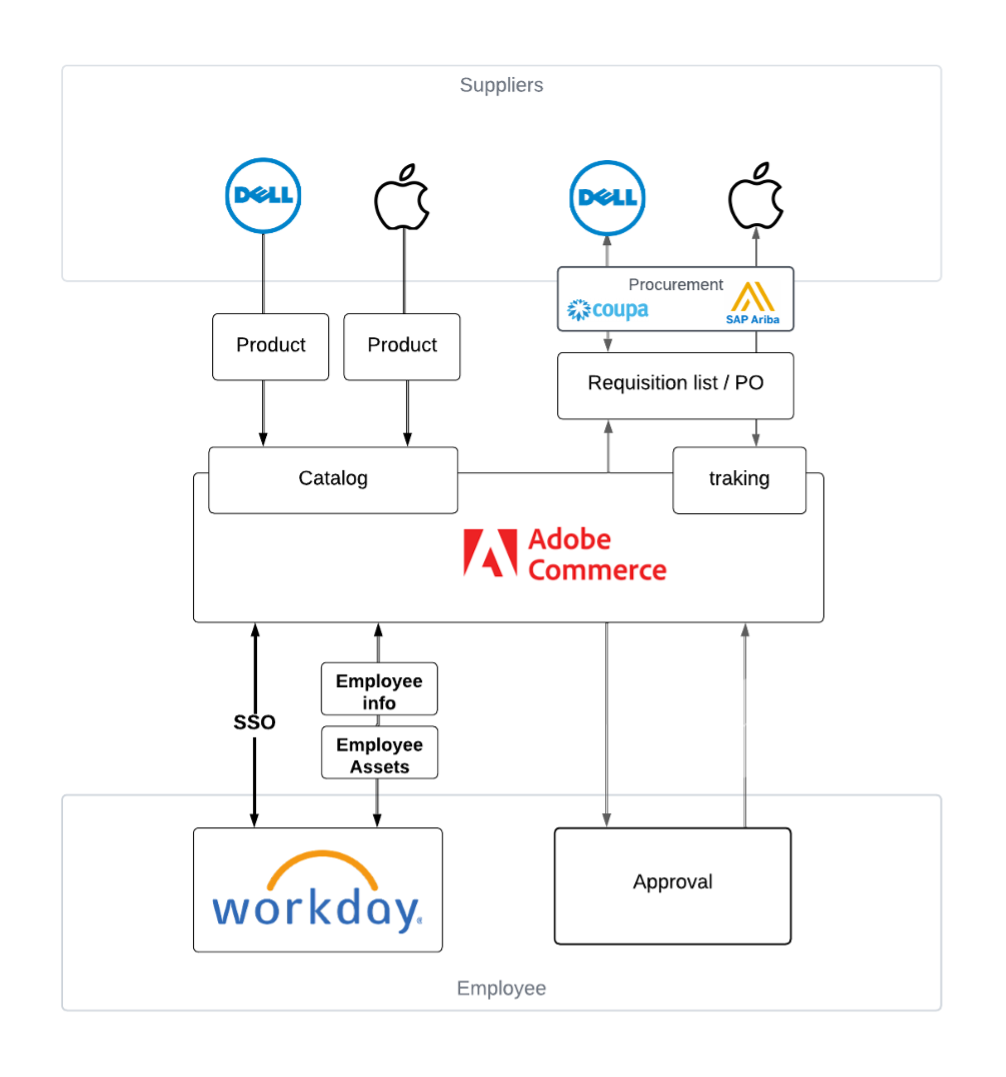 Why Adobe Commerce (Magento)?
Adobe Commerce is a feature-rich and flexible platform, that can empower any procurement system and introduce the next level of experience.
What can Adobe Commerce offer as a procurement system?
Catalog and Shopping Cart

Nicely structured and geo-distributed catalog
An "Amazon-like" experience requesting new equipment
A single place to fulfill all your employee's needs

Multi-website solutions to build geo-distributed catalogs per company region.
Adobe Commerce Native possibility to build product sets.

Product Set for onboarding new employee, "onboarding package",
"Home office", "Devices for QA", etc

Order fulfillment and status management could be converted into a transparent approval and tracking solution.

Possibility to track employee's requests and approvals

Integration layer to onboard multiple Suppliers

Using Magento API or CSV import-export

Integration layer to connect with internal systems

SSO (Single Sign-on)
Coupa

Customization and Flexibility

Allows easily implement of any custom solutions or business flows.
What is next?
Adobe Commerce has proved to be a leader in eCommerce, since its first release in 2008.
We've already seen Adobe Commerce as a leader in B2C, B2B, and Marketplace segments.
It is a time to acquire new markets.
You May Also Like
No feed found with the ID 1. Go to the All Feeds page and select an ID from an existing feed.
Read next
Every time starting a new integration project, we usually think about different ways to implement
ADA (short for the Americans with Disabilities Act) is a civil rights law that forbids
Why should we move to Google Analytics 4? With the sunset of Universal Analytics (GA3)